This post may contain affiliate links, which means we may receive a small commission when you make a purchase at NO additional cost to you. Thank you for supporting our site in this way!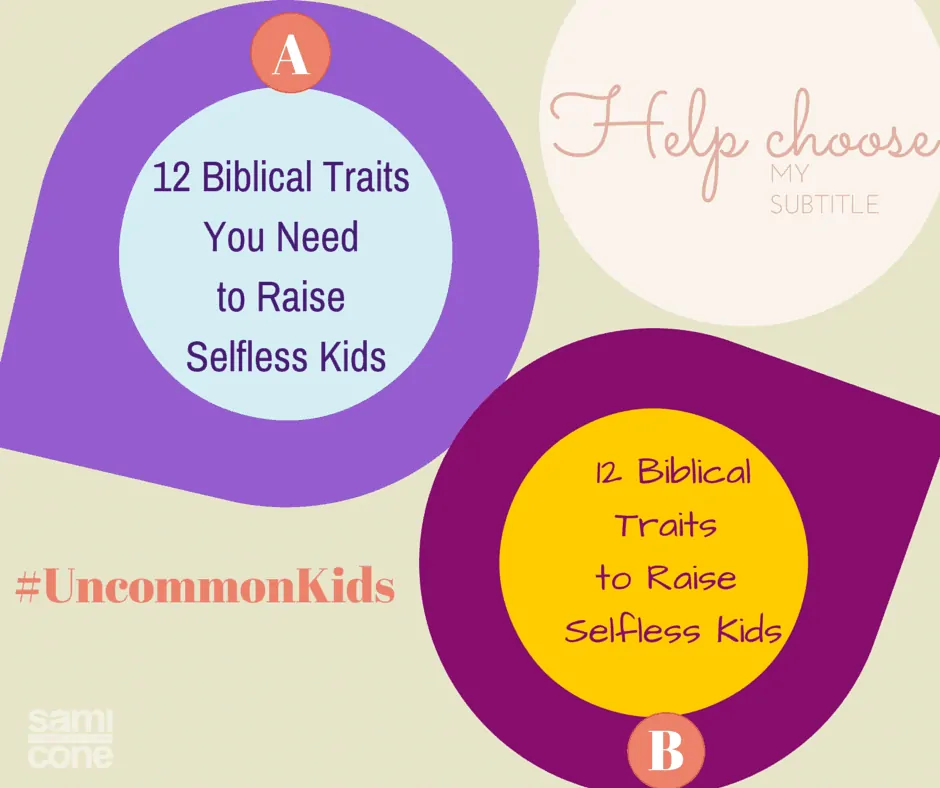 I can't believe it's finally happening – MY FIRST BOOK!
What's only lived in my mind for the past two years is finally going to print, but first I need YOUR help.
I'm excited to announce the title of my very first project (drum roll please)…
Raising Uncommon Kids
What started out of a heart-cry I felt as a mother of two has developed into this guide. Using 12 biblical characteristics that build upon each other, Raising Uncommon Kids provides parents with fresh, practical solutions to enhance their entire family from the inside out.
There's only one problem: I/We can't settle on a SUBTITLE!
That's where you come in.
As I'm writing this book to help all of you, I'd appreciate your help in landing on a subtitle. The only catch is that we have to make a decision TODAY.
That's right, just 24 hours to make the biggest decision of my literary career (OK, maybe that's overstating it a bit, but I don't think I can overemphasize just how much I want to get this right).
So I'd like to hear from you, my friends, readers, listeners, viewers on what subtitle resonates most with you:
A. 12 Biblical Traits You Need to Raise Selfless Kids
OR
B. 12 Biblical Traits to Raise Selfless Kids
Of course, I'm happy with just an A or B below, but if you have any additional comments, I'd love to hear those too.
So get voting and please share with your friends so we can hear as many voices as possible when we're making our final decision…
You can leave a comment below or vote on the original Facebook Post HERE.
Of course, I'd love if you could help spread the word via social media once you vote too:
Tweet: Vote NOW & help choose the subtitle for @thesamicone's first book! http://ctt.ec/kcucV+ @ReadBakerBooks #UncommonKids