This post may contain affiliate links, which means we may receive a small commission when you make a purchase at NO additional cost to you. Thank you for supporting our site in this way!
Today I had the pleasure of visiting my new favorite fashion find for the purpose of picking out some TV clothes for my next Talk of the Town appearance.
Resurrected Closet here in Fairview, TN is not only a beautiful store that provides an amazing shopping experience, but they have unique clothes at fabulous prices!
It's been difficult for me to find that unique shopping experience here in Nashville (though you wouldn't think so!) where I don't feel too old, too young, or more importantly, too out of my price range 😉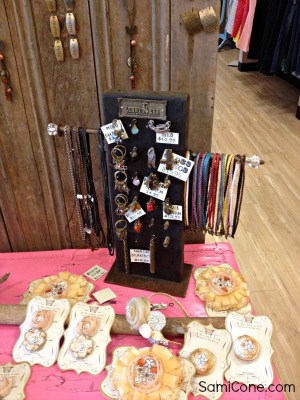 So I was beyond thrilled when I discovered Resurrected Closet not even five minutes from our home in Fairview. Even more delightful was that I discovered I went to church with the owner!
Avent and her sister Jamie graciously offered to help dress me for TV, but it turns out they offer free personal shopping for ANYONE, not just those of us who happen to appear in front of the camera.
So without further adieu, I wanted to give you all the chance to help me pick my TV clothes for my July 12 appearance on Talk of the Town:
TV Clothes: Option #1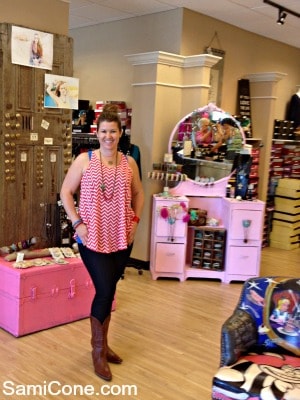 Chevron top with blue tank underneath, dark skinny jeans, cowboy boots and the stunning Lenny & Eva jewelry
TV Clothes: Option #2
Lilac & Navy maxi dress (that can also double as a skirt! And don't you love the pockets??).
(I'd actually put a cropped denim jacket with this option if you vote for this option, but they didn't have one in my size in stock….)
So what's it going to be? Option 1 or Option 2??
Just leave a comment below letting me know what you think I should wear on TV this Friday and then tune in to NewsChannel5 (CBS) in Nashville at 11am to find out what won!
And you know I'd never ask you to do something without giving you something back in return…
If you want to experience Resurrected Closet for yourself, just make sure to leave a comment below and then visit Avent in person and mention "Sami sent me" to save an extra 15% off your TOTAL purchase – LOVE IT!
So which TV clothes are you going to pick for me to wear?