This post may contain affiliate links, which means we may receive a small commission when you make a purchase at NO additional cost to you. Thank you for supporting our site in this way!
Have you heard of the Kung Fu Panda Academy of Awesomeness at Gaylord Opryland Hotel & Resort in Nashville, TN yet? If not you (& your kids) are missing out!
During our recent "Summer Fun with Shrek & Friends" weekend at Opryland, we ended our stay with a trip to the Kung Fu Panda Academy of Awesomeness. Not knowing what to expect, I simply hoped it would be a fun way to cap off what had been a thoroughly enjoyable quick family getaway.
It turned out to be our favorite part of the weekend!
The "Academy of Awesomeness" was held in the Opryland Events Center (if you're familiar with the property, this is where they showcased "ICE!" last year).
When we first walked in, we were greeted by employees in classic Kung Fu Panda gear who provided name tags for the kids. But then we saw a simple line of white folding chairs in front of a big screen.
I immediately thought this was going to be lame.
But then Po himself greeted us with a video opening that quickly captured our attention…and just as we were on the edge of our seats, the screen lifted to reveal a HUGE academy complete with pagoda!

The kids were then greeted by "Master Wu", who artfully (& comically) took the kids through a Kung Fu adventure! Britton even got to go on stage to help: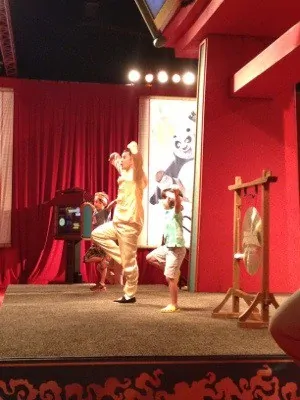 As you can see, he totally mastered all the poses taught by Master Wu. When it came time to change activities, Master Wu rang the gong:
If I remember correctly, there were about 5 stations they guided the kids through, each representing a different character trait such as excellence, teamwork, and the like. I want to say this arts & craft project represented creativity, but I can't promise that:
Kung Fu Panda himself, Po, even made an appearance at the end to watch the academy students perform their Kung Fu poses before 'graduation'.
And of course what would graduation be without a headband and commemorative certificate?!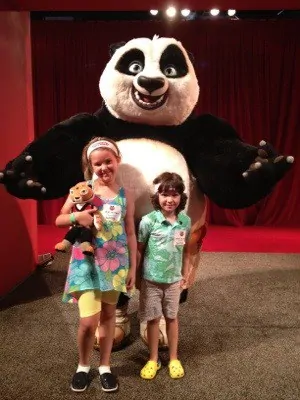 Kids also got to work together to carry an oversized dumpling bag with larger than life chopsticks and compete with Po on his Kinect game. The entire experience lasted about an hour and 45 minutes and was capped off with a (free) commemorative photo of your child's 'graduation' picture with Po & Mater Wu. In addition, we learned at the end that if we took the certificate to one of 6 restaurants at Opryland, they would receive a free bowl of "Secret Ingredient Noodle Soup"!
The experience itself is $39.95 per child, but if you book on a Sunday through the remainder of the summer and use the code POGO, you'll get the experience buy one, get one free!
If you want to get an even more up close & personal look, just check out this video montage I made of the entire experience (forgive the laughing in the background – this truly kept me in stitches!)

Has anyone else spend the summer with Shrek & Friends yet? They've also extended their Flash Sale, so you can book rooms online for as little as $129 right now!
Special thanks to the folks at Gaylord Opryland resort who allowed us to experience this activity with our kids so I could share this with you!