This post may contain affiliate links, which means we may receive a small commission when you make a purchase at NO additional cost to you. Thank you for supporting our site in this way!
If you're looking to take your love of Shrek to an entirely new level, then check out the Shrek Feast at Gaylord Opryland Resort and Convention Center in Nashville, TN!
Located at the Water's Edge in the Delta, this feast was included in our "Summer Fun with Shrek & Friends" package. I don't know what it is about character breakfasts, but they are always a hit with the kiddos!
Daddy had to go back to work and couldn't join us for our feast, but you couldn't have asked for a lovelier morning to sit under the glass atrium and drink our Shrek swamp juice…yes, you heard me right. They serve the kids (& the adults if they ask!) a green concoction that they call swamp juice. I was a little afraid to ask what was in it, but I figured we'd go with the flow 😉
And of course, the kids HAD to wear their Shrek & Fiona ears that they gave us upon our arrival:
And yes, in addition to the swamp juice, you may notice the Shrek shaped waffles on our plates above – another favorite of the day! Don't worry though, in addition to plenty of favorites for the kids, the multiple buffet stations offer a variety of adult options including a variety of berries, an omelet chef, a myriad of oatmeal toppings and a wide selection of juices to choose from.
Three characters work their way around the tables to visit everyone. What we thought was extra special was the fact that while me met Fiona as an ogre the day before, we were able to meet her as a human today!
Kariss brought her Fiona doll to breakfast with her which tickled even Shrek himself!
And yes, even though it's a breakfast, the kids' other favorite part was the green chocolate fountain. I'd venture to say it was white chocolate with green food coloring that was a little too sweet for my taste, but the kids had a blast dipping marshmallows, berries and pretzel sticks in the green goo! After all, what's a vacation for if you can't live a little?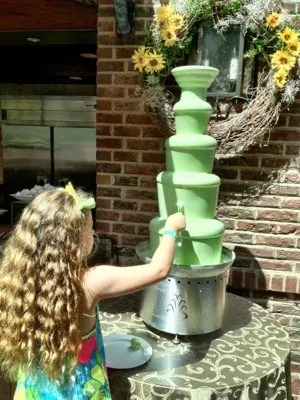 I even bought the picture they took of our family at the entry way. Though a free picture was included in our hotel package, the Shrek Feast picture has to be bought separately. I'm not normally one to buy these sorts of things, but look at how cute we are!
(It's hard to beat that Delta atrium lighting! Remember that when it comes time to taking your family Christmas card picture in a few months…)
Though we were only at Gaylord Opryland for 24 hours, I have to say, this was a perfect way to really make it feel like a vacation getaway for our kids. Remember, you don't have to stay at the hotel to take part in the Shrek Feast, but it sure is nice to be able to roll out of bed to go meet your favorite ogre 😉