This post may contain affiliate links, which means we may receive a small commission when you make a purchase at NO additional cost to you. Thank you for supporting our site in this way!
Mary Poppins Returns, literally, in a sequel that will hit theaters December 25, 2018!
I am beyond excited to share with you the first glimpse of Golden Globe winner Emily Blunt as Mary Poppins in Mary Poppins Returns, the all-new sequel to Disney's 1964 film Mary Poppins.
Perhaps it's because my mom is from England or more likely because even my son was obsessed with all things Mary Poppins from an early age (including Polly, her umbrella)…whatever the reason, there's no denying how much we love the original and just how much our family is excited about the sequel.
Here is a little bit about what you can expect from the movie:
The film, which introduces three new Banks children, played by Pixie Davies, Nathanael Saleh and newcomer Joel Dawson, also features Dick Van Dyke and Angela Lansbury. The film is set in 1930s depression-era London (the time period of the original novels) and is drawn from the wealth of material in PL Travers' additional seven books.
In the story, Michael (Whishaw) and Jane (Mortimer) are now grown up, with Michael, his three children and their housekeeper, Ellen (Walters), living on Cherry Tree Lane. After Michael suffers a personal loss, the enigmatic nanny Mary Poppins (Blunt) re-enters the lives of the Banks family, and, along with the optimistic street lamplighter Jack (Miranda), uses her unique magical skills to help the family rediscover the joy and wonder missing in their lives.
Mary Poppins also introduces the children to a new assortment of colorful and whimsical characters, including her eccentric cousin, Topsy (Streep). The film is produced by Marshall, John DeLuca and Marc Platt. The screenplay is by David Magee based on The Mary Poppins Stories by PL Travers with Marc Shaiman and Scott Wittman writing all new songs and Shaiman composing an original score.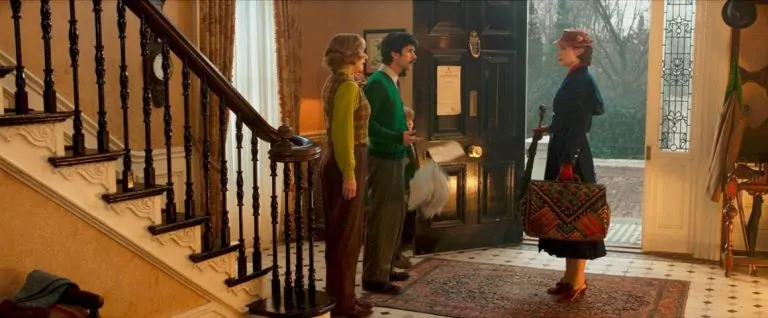 Now you can also get a look at the Mary Poppins Returns trailer and movie poster!
Who else is excited about this movie?