This post may contain affiliate links, which means we may receive a small commission when you make a purchase at NO additional cost to you. Thank you for supporting our site in this way!
Have you ever heard of Milton's Cuisine (Alpharetta, GA)?
Even though I spent four years earning my Undergraduate Degree at Emory University in Atlanta, I have to admit I didn't venture outside of the Perimeter very much.
After checking in to the Residence Inn Alpharetta for our #GirlMom weekend, I asked Jade, the manager, what restaurants we should check out while we're here. Without hesitating, he said Milton's Cuisine.
After a phone call to Nate, Milton's General Manager, It was settled. Following our American Girl Boutique & Bistro experience on Saturday, we'd make the trip out to Milton's.
Milton's Restaurant takes residence in a 150 year old farmhouse in Crabapple's historic district. According to the Milton's website, the restaurant features "contemporary New Southern Cuisine that utilizes fresh, local ingredients to create regionally inspired comfort food with bold flavors that are artistically presented in a relaxed and friendly environment". Many of the ingredients come from their own on site garden, the "Milton's Acre."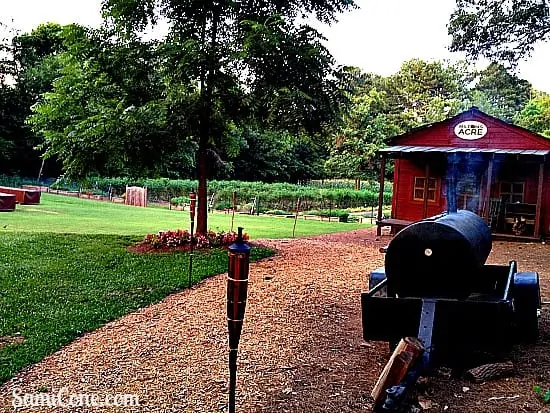 In fact, the executive chef created a warm bruschetta appetizer with the first-fruits from their garden, including these beautiful yellow roma tomatoes.

I was also intrigued by the unique cocktail selections. But not being much of a drinker, I asked if they could make me one of their Georgia Peach Basil Mojitos without alcohol. Naturally, they obliged (being the good Southern folks that they are). They were so good, I had two…

Of course, we couldn't only settle for fruity drinks and fresh baked bread. Though that couldn't have made us quite happy by itself, time came when we had to decide on our dinner.
If I could have, I would have tried everything off the left "Nibble" side of the menu. I kept seeing Fried Green Tomatoes and P.E.I. Mussels fly out of the kitchen. But I wanted to find something both a city-girl and her 8 year old daughter could come together to try. So we opted for the Asiago, Sweet Corn & Smoked Bacon Grit Fritters with green tomato-jalapeno jam

and the Chef's Signature Pimiento Cheese "Dip" with cajun crackers & crisp celery

I also couldn't resist a bowl of the Charleston Crab Bisque with sherry drizzle & chives. My picture didn't do it justice, so you'll just have to take my word that it was the most exquisite blend of lump crab meat and cream…neither of which I'm much of a fan of on their own, but Milton's somehow managed to combine them with perfection.
To be honest, I had a harder time finding something from the Entree Plates (aka "Feed"). Selections included such southern favorites as Shrimp & Grits, Espresso Rubbed Apple Brined Pork Loin and a customer favorite, Sesame Crusted Mountain Trout. Not being a fan of pork or fish, I found less that appealed to me. But our magnificent server Brian assured me the Grilled Petite Filet Mignon with lobster & spring onion risotto, roasted garlic spinach, and a creole pan sauce was equally exquisite.

He wasn't lying.
Even though the filet appeared to be cooked a bit past my ideal cooking temperature upon first cut, it was so buttery and tender, I could almost cut it with my fork.
But you know me – I couldn't leave order something as it was off the menu. I had to be difficult and mix and match my side items a little bit. But really, who can say no to blue cheese mac? Obviously I couldn't
And instead of hearing from me on the kids' meals, why not hear it straight from my 8 year old daughter:
"If I was a judge on chopped, even though I'm not an 'expertise' or anything, I would say the shrimp is a little too crunchy and falls apart easily, otherwise I would say everything is good. When I finish this Mac & cheese, I'm going to ask for another to-go so that I can have it for lunch tomorrow…It's some of the best Mac & Cheese I ever had!"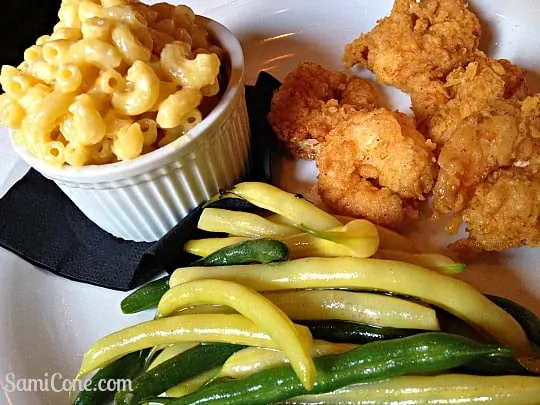 (In Milton's defense, it was some of the freshest fried shrimp I've ever tried. I think my daughter's taste buds may have become too accustomed to typical restaurant fried shrimp!)
We couldn't even finish our entrees, but how could I pass up dessert?
Whenever I hear something containing the words 'cobbler' and 'berries', I simply can't refuse. Their strawberry cobbler with Nutella ice cream may have been a bit of a melty mess to look at (hence no picture), but it was a heavenly combination in my stomach.
Kariss, not normally one to like chocolate cake, ordered a sweet concoction topped with chocolate mousse and covered with chocolate ganache. I guess I took one to many bites because she eventually cried out, "Can I eat my dessert please?!"

After sitting for 2 hours (yes, two hours FLEW by!), Nate stopped by our table to let us know lingering at Milton's is not only not uncommon, it's encouraged. However, he offered to let us tour Milton's Acre out back and since the sun would be setting soon, we'd need to hurry if we wanted to get a good look.
As we walked out through the patio, we sampled the live music and learned they even show movie's on the lawn after it gets dark on Wednesday nights. We're already planning a return trip in the fall for when the weather cools down just a bit. (The picture above doesn't do the ambiance justice, but I also just loved the table in the bottom right joining hands in prayer before their meal 😉
Nate proceeded to tour us through unique vegetables like the Korean red eggplant in the top right below or the asparagus in the bottom left. Not only had I never seen asparagus growing before, we got to pick and eat it straight out of the garden! Kariss and I both couldn't believe how sweet it was…truly a treat.
But when Nate asked Kariss if she'd like to take some cucumbers home, you would have thought he'd just told her she could pick out anything she'd wanted from the American Girl store…she was that excited. The cucumbers were so big, they barely fit in the brown paper sack carrying all our leftovers!
After Kariss picked out her cucumbers, we had a sweet exchange with Richard, the valet. He told us how he'd been parking cars in Atlanta for 30 years in all that time, he'd never seen people come out of a restaurant the way they do when they come out of Milton's. He said other places, people would come to him saying the food was good, but here at Milton's, and I quote, "It's like that WOW feeling".
I couldn't have said it any better myself, Richard.
I thought I'd be able to help spread the word about Milton's Cuisine, but as it turns out, I guess they don't need too much help…Open Table guests voted Milton's as one of the top 50 American Dining Restaurants in the United States!
At Milton's Cuisine, every 'i' is dotted and every 't' is crossed, but in a familial way. It's the experience you always hope for, but rarely find. It's fine dining but without the pretense.
As we got in our car to leave, I asked Kariss what she thought about Milton's. Kariss said, "That's what you call a BIG treat! It's not like eating 5 desserts in one night… actually, it's better than that..it's a really unique experience, nothing like I would never have at a normal restaurant."
Yes sweet girl. We didn't just eat at a restaurant. I think we just became part of the Milton's family. In fact, nothing sums up our experience quite like the message we found on the sign before leaving Milton's parking lot…
…and come back we will.