This post may contain affiliate links, which means we may receive a small commission when you make a purchase at NO additional cost to you. Thank you for supporting our site in this way!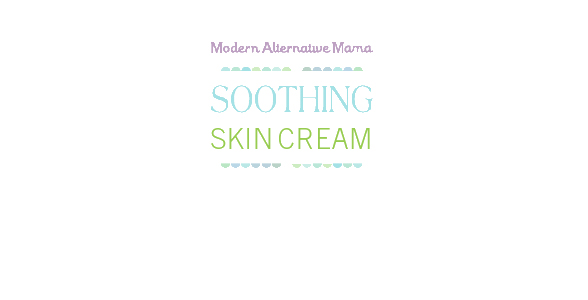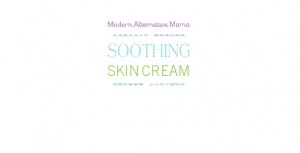 When I was presented with the opportunity to review Modern Alternative Mama's Soothing Skin Cream, I jumped at it!
As a frugal gal, I rarely splurge on organic skin care. However, since the skin is our largest organ, we really should be more selective and careful when it comes to what we're putting on it!
So when I received the jar of Soothing Skin Cream, I was delighted both by its simplicity and thoughtfulness.
No, I'm not describing my husband. Yes, I realize it's an inanimate object.
There are just so many products that have to be jazzed up to jump off the shelves these days that it was nice to see something so pure in both packaging and ingredients.
Here's all you'll find on the label:
Benefits: Organic Ingredients, Non-Irritating, Calming, Moisturizing
Ingredients: spring water, calendula flowers, comfrey leaves, organic sweet almond oil, beeswax, organic shea butter, organic coconut oil, lavender essential oil
The skin cream was originally created to heal diaper rash that wouldn't respond to antibiotic creams. It worked so well that they ended up trying it on many different skin rashes, all with success!
I think the thing that I liked the best about the cream was that I wasn't afraid to put it anywhere on my body. I knew it was safe to try everywhere from my face to my kids' bottoms! Right after I received the cream, I burned my wrist on a pan and it immediately soothed the burn. My continuing application of the cream to the burn has kept it from blistering or scarring (at least so far!).
Wait, I lied. The thing I REALLY like most is the smell. After applying the cream to my hands and elbows the first night before bed, my husband commented right away, "What smells so good??"
The only thing I didn't like was that it was a little difficult to spread over a large area. However, this is more of a balm, so I didn't really expect it to act like a body lotion. Plus, since it's intended to soothe skin and promote healing, I probably shouldn't have tried to lather it all over my body (I just wanted to make sure I could give you a thorough review!!!)
Right now you can get your own jar of the Soothing Skin Cream for only $10 (normally $15) plus FREE SHIPPING! Visit the Modern Alternative Mama store now and let me know what you think!