This post may contain affiliate links, which means we may receive a small commission when you make a purchase at NO additional cost to you. Thank you for supporting our site in this way!
Who wants to win "One Wintry Night" in this Tommy Nelson book giveaway?
The holidays are also the perfect time to sit together as a family, especially before bedtime, and share a story of the season. Of course the reading of the Christmas story from the Gospel is always a good idea, but I'd love to share something that will soon be another favorite in your family: One Wintry Night.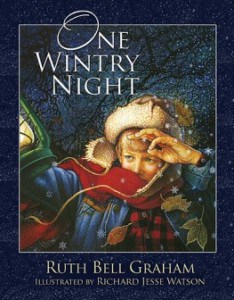 Written by Ruth Bell Graham, this beautifully illustrated story chronicles a mountain boy who is injured in a snowstorm and seeks refuge in a cabin, where he eventually hears the Christmas story told for the first time—beginning with Creation and ending with the Resurrection.
It's stories like these that appeal to the child in us all, yet intrigues even the most skeptical adult.
To win a copy of One Wintry Night, just enter via Rafflecopter below:
a Rafflecopter giveaway

If you can't wait to find out if you've won and simply need to buy a copy of One Wintry Night for your family NOW, you can get 20% off by using the code SAMI20 with the link above!