This post may contain affiliate links, which means we may receive a small commission when you make a purchase at NO additional cost to you. Thank you for supporting our site in this way!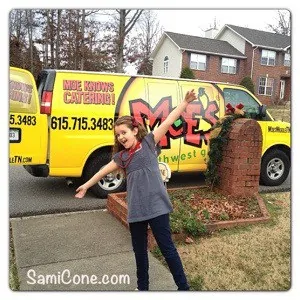 Although we moved into our house almost 6 months ago, it fell right in between the end of school and finding out about my father-in-law's brain tumor.
Needless to say, we were not in the party mood at the time.
Fast forward to this month, and we realized we were finally ready to welcome people in to see our new place, so we decided to have a housewarming/Christmas party all at once.
Yes, we love to entertain, but there is a key point I have learned: when my husband is in charge of all the food, he doesn't have fun and his own party. Since I wanted this to be an especially fun night for him after all he has been through this past year, I desperately wanted to offer our guests something that was fun & delicious to eat yet easy to serve during the event.
It didn't take long for us to realize the festivities should actually be at 'fiesta' and that we wanted Moe's to be there too!
While catering from most places can quickly get expensive, there were a few things that we loved about the catering offerings from Moes:
1. Ready to Go!
You have the option to either have food pre-made for you by Moe's if you're in a time crunch, or they can bring a anything to you and set it up just like they would in their restaurant.
Since we knew a lot of kids a be coming, we went for the taco bar so that people could customize their food the way they wanted.
Tip: Don't order food for exactly according to the number of people coming; instead, supplement a bit with chips/salsa… See number two below.
2. Chips, Salsa and Queso!
Yep. You know it. Isn't this the reason we all truly love Moe's?
I've always appreciated the fact that Moe's is one of the few places that offers free chips and salsa with your meal. While these items are not free with catering, they are extremely inexpensive, and can make up for some of the food that you don't have to order in number one above.
As an example, many of us love making taco salad, so the chips went further than the actual makings for the tacos.
Tip: Ask for a variety of salsas. They will stretch and you can make a large crowd happy with very little effort.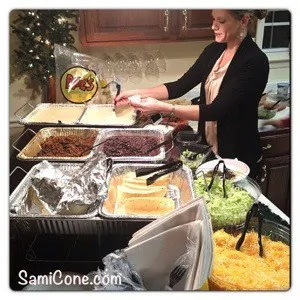 3. Moe's provides everything!
From the warming racks and heating elements, to the plates, utensils and napkins, Moe's thinks of everything. They will even set it up completely and there is no need to return anything at all to the store. For me, that is one of the biggest drawbacks of hosting a party is the setup and cleanup, and with Moe's catering, they take all the hassle out of it for you.
Tip: Think of the money you save just on plates, napkins & cutlery alone since Moe's brings all of that too!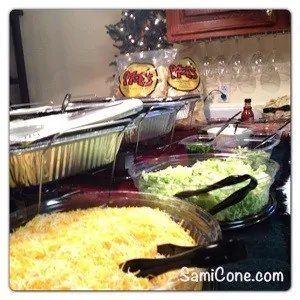 4. Who doesn't love Mexican food?
Well, I'm sure there are some of the crazy people out there who don't, but as a rule, it is a universally loved food that is easily customizable. We even added on some of our favorite toppings like cilantro and jalapenos to our taco bar.
Tip: Once again, supplement with add-ons that cost less than the meat itself, or just opt for one protein like we did, instead of two, to save even more!
I would be remiss if I didn't thank Michelle Hussung, the Director of Catering for Moe's Southwest Grill six Middle Tennessee Locations. She made the process so easy all the way from talking me through the ordering process to ensuring everything was properly set up the day of the event. It's that level of service we've come to expect from Moe's and they didn't disappoint…even when in our home!
The word "Catering" has been a buzz word for "expensive" for me in the past, but no more! I now know that Moe's can actually bring me food (that's already prepared and ready to eat!) for just as good of a deal, if not better, than if I bought it myself (not to mention the time saved in the kitchen before and after my party).
Thanks, Moe's, for making our party a low-stress success!
Have you ever catered an event for less than if you had done it yourself?
Disclosure: The catering for our event was provided for us as part of my participation in their

Moe's Blogger Advisory Council

this year. It was my pleasure to not only take part in this group, but to share in more detail why Moe's is one of our favorite places to eat as a family!