This post may contain affiliate links, which means we may receive a small commission when you make a purchase at NO additional cost to you. Thank you for supporting our site in this way!
It's hard for me to believe this day is finally here: the new Plumb album "Need You Now" comes out today and I get to help her celebrate by giving YOU a prize…the chance to not only win the album, but also 1 of 2 iPad Mini's!
I'll come back to the prizes later, but for now I just want to be a proud friend…
That's right, Ms. Tiffany Lee is one of my closest friends, so I've enlisted some of my favorite bloggers to help give her the album release she deserves!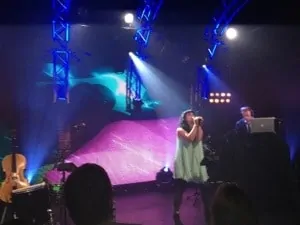 I have to admit, I've been listening to this album for a few months now.
Tif's husband and my husband used to be roommates way before either of us were ever married. So when Ricky needed to drive down to Florida last August to be with his dad in his last days on this earth, Jeremy was the one that offered to drive down with him…and he just happened to have a preview copy of this album.
My father-in-law ended up passing away that very weekend, but Plumb's album ministered to Ricky in a very special way.
While the music itself is amazing, what makes the songs so powerful are the stories behind them. Take for instance, "I Want You Here".
I remember the night Ricky called Tif to tell her about friends of ours that gave birth to twins, only to lose them both within just a few weeks of being born. Little did we know, Tif had heard a similar story from one of her good friends…and the stories kept coming. While the song documents a life that was not lived long enough on this earth, it is a powerful melody for anyone who has loved and lost.
Or if you've been reading my blog for awhile, you'll remember when my little man got to step in & be a part of Plumb's video "Drifting" with Dan Haseltine (from Jars of Clay):


Or maybe you've heard how she takes songs you know, but have never quite heard in this way (like this cover of "In Your Eyes" by Peter Gabriel):

For me, it's all these things…and more. She is who she appears to be. She's my crazy friend, an aunt to my kids and a passionate wife & mother. I love her music because I hear HER in every song. I can listen to this album from start to finish without ever wanting to fast forward through a song, but often wanting to repeat one over and over again.
So it is with whole-hearted enthusiasm that I would encourage you to buy "Need You Now" on iTunes – TODAY!
Now, back to those prizes I mentioned…
Together with the bloggers listed above, we have the privilege of giving away TWO iPad Mini's amongst us! Just check out all the ways you can enter via Rafflecopter below.
BUT…
Make sure to leave a comment below because two SamiCone.com readers will win a copy of "Need You Now"! PLUS, if you buy the album on iTunes, you get THREE extra entries into the iPad Mini giveaway!
So what are you waiting for? ENTER NOW!
UPDATE: The winners are:
iPad Mini winners: Kalona E. & Julie P.
"Need You Now" album winners: Jacob M & Rose R.
a Rafflecopter giveaway