This post may contain affiliate links, which means we may receive a small commission when you make a purchase at NO additional cost to you. Thank you for supporting our site in this way!
Gaylord Opryland Summerfest is here!

The Gaylord Opryland Resort & Convention center really stepped it up when they created the Summer Fun with Shrek & Friends package!
When we were first introduced to the Dreamworks collaboration last year at the hotel, we were delighted to see the incorporated some character experiences into Opryland for the kids, but they still didn't feel like they were part of the Opryland family just yet.
However, this summer was an ENTIRELY different story! Not only did they pack a TON of fun into a short amount of time, but each of the character interactions were well thought out from a kids' point of view, not just an executive's!
First of all, we got to stay in one of the newly remodeled Delta rooms. We've never stayed in the Delta before and with so much of the Shrek & Friends going on in the Delta atrium, we loved this location!
I think it's safe to say the kids liked the room too 😉
Upon arrival, each child received either Shrek or Fiona ears, along with a scavenger hunt guide, crayons and a coloring book, so even when you're enjoying your atrium view with a beverage, the kids still have something to do!
The first stop on our adventure shortly after we got situated was the Princess Fiona Cookie Castle Decorating. You can read my entire post about our creations, but this was the perfect activity to both get in the Shrek spirit that got us all working and laughing together!
From there we moved out to the Magnolia Pool for some fun at the Madagascar Crack-a-lackin pool party! I do have to say that it was rather crowded and forgot that this was not a kids' only pool. While there were plenty of games and poolside activities for everyone to enjoy (limbo, freeze dance, etc), adults could (& did!) participate too, especially in the karaoke….which turned more into "Nashville Star" than poolside fun.
We didn't have long at the pool before coming in for dinner at Paisano's (the have an AMAZING gluten free personal pizza…you just have to ask for it. Very reasonable – I'd come back just to eat that!). And then we had to make our way back to get ready for the parade of characters!
I suggest lining up a half hour early, otherwise you won't get to borrow a costume for this event. Though it seemed like a little much to have to stand in line and wait for, the kids ended up loving it! Each character marches in the parade and each has it's own costume elements that they hand out to the kids marching with them. Britton really wanted to be Puss 'n Boots (I'm pretty sure it has something to do with the sword)…
And Kariss of course wanted to dress like a princess and march with Fiona…
The kids & characters marched all throughout the Delta atrium, eventually ending up just outside the Shrek character greeting area alongside the Delta river. Some of the kids in the parade even got to toss out gold, chocolate coins to the spectators!
While it was a bit of a pain to coordinate, it seemed well worth it in the end. They even had their own band leaders for the march! (Yes, that's my son sandwiched between them & Po in the picture below).
But no rest for the weary. NO! We had to immediately go back out to the pool for the evening edition of the Crack-a-lackin pool party and what turned out to be one of the kids' favorite parts of the weekend, swimming in the dark and watching a movie under the stars:
I kept thinking they wouldn't make it through the whole movie, but they did. (Of course the free popcorn and proximity to the swimming pool helped!). After coming back for showers and chocolate on the pillows, her highness finally seemed ready to settle down for the night.
Yet we didn't get much sleep before it was time to wake and enjoy our Shrek Feast:
and of course study under Master Wu at the Kung Fu Panda Academy of Awesomeness (my personal favorite of the entire weekend):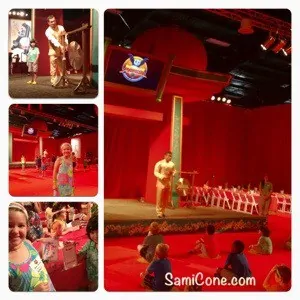 The kids sure were sad to go…
…but not without first getting our free bowl of special ingredient noodle soup they earned for being such brave dragon warriors!
The great thing about Gaylord Opryland for us is that it's practically right in our backyard in Nashville, yet it offers us an affordable way for our family to escape for a weekend and truly feel like we've taken a vacation…even though we've never left our hometown! More importantly, the kids love it and as a parent, there's little else you can ask for than that 😉
You know we'll be back, will you?