This post may contain affiliate links, which means we may receive a small commission when you make a purchase at NO additional cost to you. Thank you for supporting our site in this way!
The Stretched Too Thin half price deal is back, so if you know a working mom, you need to pre-order this resource for her NOW.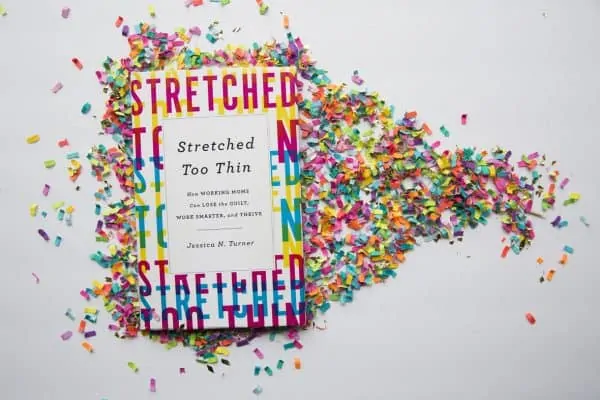 Stretched Too Thin Book Deal
Book lovers and working moms rejoice: my friend Jessica N. Turner's new book "Stretched Too Thin" is half off today only!
I know, you're used to reading this blog and reading Jessica's blog and you're thinking, "You want me to pick up a bunch of paper and read something not on my phone?" Yes…yes, I do.
Jessica Turner, Author of Stretched Too Thin
Jessica and I share a lot of things in common: we're both from Nashville, we both have July birthdays, we both started blogging before Instagram ever existed and, most importantly, we're both wives and working moms.
In fact, Jessica has become an expert in how to balance working while still staying intentionally invested in her family – and now she's sharing her secrets with everyone!
Overview of Stretched Too Thin
Here is a brief overview of the book:
"Working mothers constantly battle the pull to do all the things well. From managing work and home responsibilities to being impacted by a lack of self-care and time for deep friendships, the struggle is real. At the end of each day, many working moms are exhausted and stretched too thin. But this does not have to be the norm."
And if I know anything about Jessica, she's not going to waste your time. If you buy, read and apply the principles in this book, you're going to come away with practical tips that will impact both your work and your parenting.
Trust me, I realize books can be a luxury for many of us, which is why I want you to pre-order Stretched Too Thin today.
I just discovered that Barnes & Noble is offering Stretched Too Thin for half-off today only: that's just $11.49! Jessica said this will be the absolute lowest price you'll be able to find the book, so why wait?
UPDATE: The book did SO well on B&N yesterday that Amazon is matching the price today!
Plus, if you pre-order now, you can some incredible free bonuses (including the audiobook and her Stretched Too Thin course): just go to StretchedTooThinBook.com to submit your receipt information so that you will receive the freebies when they are available.
Disclosure: Affiliate links are used in this post, which means that when you click on a link and make a purchase, I will make a small commission at NO additional cost to you. Thank you for supporting my site and my family in this way!
Stretched Too Thin Discount Details
What: Stretched Too Thin Book
Where to Buy: Amazon.com
When: August 16, 2018
Keep in mind, prices are subject to change without notification, so I'd grab this deal while you can.
And I get it, some of you will still want to purchase through Amazon, so I'm going to share that purchase information too so you have a direct link there:
Working moms unite!