This post may contain affiliate links, which means we may receive a small commission when you make a purchase at NO additional cost to you. Thank you for supporting our site in this way!
Watch the Talk of the Town video of  the show: Excellent Teacher Gifts

Talk of the Town on NewsChannel 5 in Nashville will be airing my segment on Teacher Gifts all this season as part of their Holiday Gift Guide. 
A couple tips to keep in mind when wanting to get great gifts for 'FREE' this season:
I'm noticing a lot of "Buy 1 Get 2 Free" deals, especially when it comes to photo sites. If you have multiple teachers to buy for or are already planning on buying something with a deal like that, take advantage of the free bonus.
Make use of online sites like Swagbucks & MyPoints.com to earn points that can they be turned into gift cards for restaurants, retailers and more! (In a poll I've learned that gift cards are a teacher fave!)
Another great idea is to send out a one page form to the teacher's in your kids' school asking them their favorites (music, restaurant, magazine, coffee, free-time activity, cologne/perfume, etc) that takes all the guesswork out of figuring out where to start shopping! And remember, teachers have families too, so if your family likes something or finds it useful, chances are they will too!
Here are some other fun ideas divided by category. Keep in mind we'll see more and more great deals, especially as we progress closer towards the holidays (I'll update you on SamiCone.com as I find out about them!)
Give them a Night Out!
One of my favorite ideas is to give your kids' teacher a night out on the town. This could be as simple as baking a meal, bringing it to their house and watching their kids so they can have a date night with their spouse.
You could also use some of the ideas below to get them a free gift card so they can go out to a restaurant and you still watch the kids.
Food Gifts



-Make something homemade and wrap it with a more practical gift like a decorated towel, pot holder or serving set from Dayspring
(see special discount code below just for my readers!)
–Starbucks: Get Buy One Get One Free Holiday Drinks November 18-21 and stay tuned for special deals during their 12 Days of Sharing  (you can text 29943 for daily offers)
-Once restaurants start offering gift card deals (I'll be posting these soon too!), buy some for your family to use throughout the year and give the freebie to your teacher.
Holiday Themed Gifts



* Lots of fun places to get ornaments and other holiday items great for teachers! Snapfish is running a special from 11/19 – 11/24 where you can get 33% off all photo ornaments with code MERRY1119.
*Dayspring
is offering two special codes just for SamiCone.com readers:
sami20 – 20% off entire order, valid through the end of November.
samideal – free shipping on orders of $20 or more, valid through the end of November. (This is the lowest minimum order they've ever offered free shipping on!)

Everyday Use Items
*Vista Print
-Lots of great personalized items that are fun and useful to teachers. Most are free AND you can sometimes get free shipping too! Items like: tote bags, pen, calendars, t-shirts, mugs and more (would be fun with a class photo on it!)
Photo Gifts
–Snapfish
: They're offering daily deals on their photo gifts.
*SPECIAL for SamiCone.com readers:Buy one, get one free on all mugs and notepads using code: FRUGALMOM.
–Dayspring
: Use code SAMICONE30 to get 30% off custom Christmas Cards at StudioDayspring
.
–Shutterfly
: Enjoy 50 free prints this holiday season when you join Shutterfly.com and returning customers can take up to 30% off cards, stationery and up to 50% off photo books! Offer valid through 12.7.10!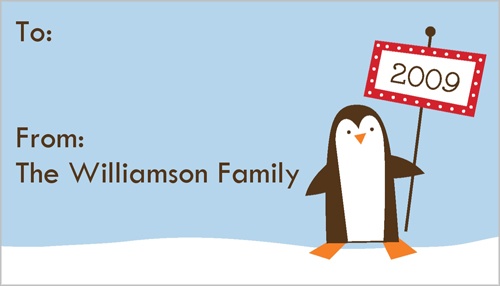 Mister Penguin Gift Tag



–Kodak Gallery:
Great Holiday Photo Gifts Under $10 at Kodak Gallery
Pet Gifts
*Use below to create a gift basket with other chew toys/bones for the teacher who's a Pet-Lover
-Halo Pets (http://www.halopets.com/) Ellen Degeneres is co-owner and offers 2 free cans of natural pet food with email sign up.
-Lots of other free pet food, toys, and samples at http://www.freemania.net/samples/pet.htm
Magazines
-Again, many magazines run a "Buy 1 subscription, get 2 Free" around the holidays.
-There are also a lot of teaser free subscriptions that come about that I link to on my site when they are made available or even $5 subscriptions to favorites like Real Simple, Martha Stewart Living, Woman's Day, Good Housekeeping and more.
–Free Trade Publications
-Get Discount Magazine Subscriptions on Amazon
-Magmall.com also offer teacher discounts on Magazine Subscriptions


Clothing for today's on-air segment was furnished by LuLu's Clothing Company in Franklin, TN. Mention "Sami Cone" for a 20% discount when you shop there!