This post may contain affiliate links, which means we may receive a small commission when you make a purchase at NO additional cost to you. Thank you for supporting our site in this way!
As it's the last day of 2011, I wanted to share my top 5 Disney Walt Disney movie list of 2011 with you!
It's been an interesting year when it comes to what Disney Pictures has released, including some potential award winning films, but I think you'll see that they've done a great job with film releases all ages can enjoy!
Top 5 Disney Movies of 2011
With 4 SAG Award nominations (the most of any film this year), I think The Help
surprised us all. A beautifully acted film about a controversial time, it will be interesting to see if this inspirational offering can keep up with the other Hollywood Blockbusters that are nominated, but it is certainly more welcome in our home than its fellow nominees!
Yes, I know, this is a sentimental choice, but I was SO impressed by this new release of a classic. Though I've always loved Disney, for some reason I REALLY got back into my Disney roots in college with the Classic Pooh paraphernalia I took with me to my new dorm room to remind my of home & family. So I was extremely pleased when this year's Winnie the Pooh
film not only paid tribute to the classic characters that we all know and love, but added clever twists, inferences and story lines. Bravo Disney!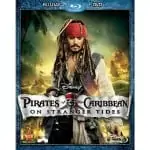 I loved the first film, got such a headache from watching the second Pirates in theater that I didn't even see the third, and was skeptical to see the fourth. But nevertheless, I took the opportunity for a date night to see Pirates of the Caribbean: On Stranger Tides
with my husband, and re-discovered why I found Jack Sparrow and the first film so charming. It was full of humor, action and suspense while mostly void of the dark & gratuitous violence I found in the second installment. Not little-kid friendly, but good for teens and up.
While I appreciated the ingenuity of Pixar in the first Cars film, it wasn't something I bought on DVD. However, Cars 2
was the one DVD my 5 year old son asked for this Christmas, and we were happy to comply. I will say, I'm partial to the travels around the world and all the sights they get to see (that I can share in an animated form with my kids!), but besides my personal bend, the way the storyline wraps in such a funny way around who we thought to be the most humorous character of the franchise (Mater – voiced by Larry the Cable Guy) won us over.
I realize this wasn't a Disney feature film, but Jake and the Never Land Pirates were created in 2011 and released their first DVD, "Jake & The Never Land Pirates: Season 1 V.1
", this year as well. It has quickly taken over as my son's favorite cartoon to watch on Disney Junior and in fact, now that he's in school, it's the only one he asks me to tape for him. It builds on his love of Peter Pan and Captain Hook and the epic battles between them, yet brings it down to a child's level with important lessons, bright colors and catchy tunes (provided of course by none other than Sharky & Bones – watch Sharky & Bones sing live at Disney's Hollywood Studios).
So there you have it – my top 5 Disney movies of 2011. If you're looking for ways to add to your Disney DVD collection (and get some Disney Movie Rewards points!), then you'll want to check these titles out!