This post may contain affiliate links, which means we may receive a small commission when you make a purchase at NO additional cost to you. Thank you for supporting our site in this way!
As a home staging professional, my husband excels in transforming clients' homes and office spaces for the better. I'm always amazed at how a unique floor lamp can literally brighten an otherwise dull room. So I challenged him to put some of the unique LED floor lamps he uses for staging in our own family room. I think you'll agree, the impact is impressive…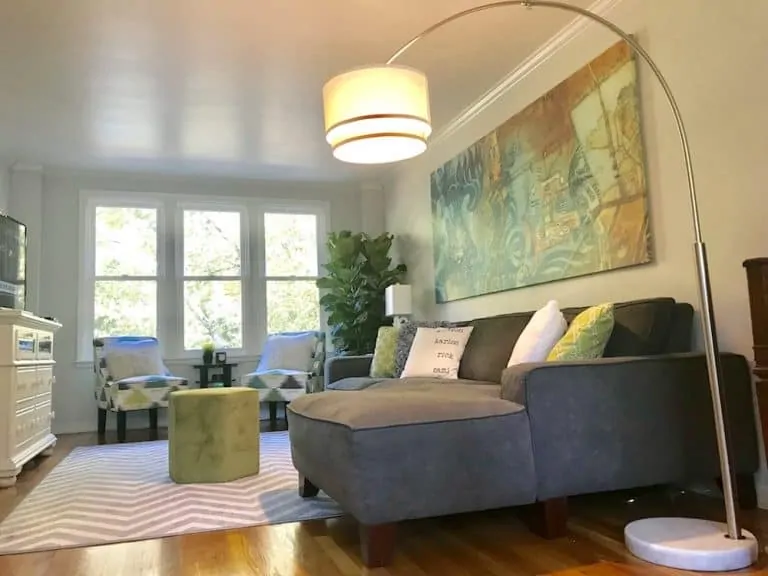 Unique LED Floor Lamps for Staging
Before my husband started home staging, I used to just think a light was a light. As much as I hate to say my husband was right, his emphasis on the right lighting should not be understated.
There are so many types of floor lamps, from table and torchiere to swing arm and arcing. To really make an impact in your home, I'm partial to arcing floor lamp. I'll explain why in just a minute, but first, let me share how floor lamps have changed over the years…


Benefits of LED Lamps
According to the Department of Energy, LED lamps and lights have several advantages over traditional lighting. IN addition to consuming less energy, they are also cooler than incandescent lights and are less likely to break than glass bulbs.
LED lighting will endure for more than 20 years without burning out or overheating. Knowing these facts, it would only make sense to look for a new, unique LED floor lamp for the most loved and highly trafficked room of your home.
The Most Modern LED Floor Lamps
LED floor lamps of today are not the straight stick floor lamps of our childhood. The modern floor lamps you'll find today are sleek, beautiful and, at times, seem to defy gravity.
The most striking factor for me is that some of these floor lamps look like pieces of art. Choosing the right lamp can easily become the focal point of the room, literally and figuratively.
The Brightech Mason Floor Lamp: Modern Arc Lamp
In the end, we opted with the Brightech Mason floor lamp – a modern LED Arc Lamp. This stunning floor lamp stood out to us for several reasons.
While your attention is typically directed to the top of a lamp, we couldn't help but notice the marble base. Not only is it sturdy enough to support the arcing lamp, the white marble is stunning. It fits beautifully with our decor, mimicking the same marbling in our kitchen just on the other side of our family room. And because of the base's low profile, it could easily slide under furniture to save more space.
Speaking of space, this is not a small lamp. which makes it the perfect overhead lamp for rooms with high ceilings. That being said, we only have 8-foot ceilings and yet the Mason lamp not only compliments our space, it anchors it. This is why home stagers put such emphasis on lighting: you get maximum results for minimum investment.
In fact, at just $135.99, we couldn't believe how reasonable this lamp from Brightech was. For us, we couldn't order it fast enough.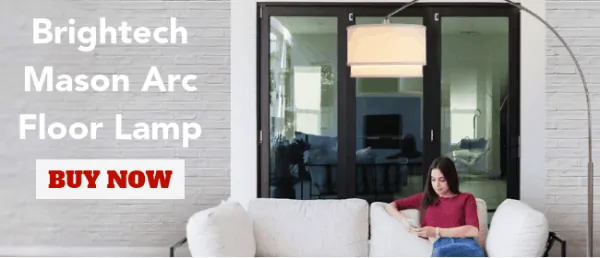 Mason LED Floor Lamp Features
To summarize, here are just a few of the Mason LED floor lamp features:
Weighted marble base, 15″ diameter and is 2″ tall
Unique double cylindrical lamp shade measures 19 inches in diameter and 22 inches in height
Reaches 81 inches in height
9.5 Watt power-saving LED light so that you will never have to replace a bulb
Satin Nickel or Bronze finish
5 Year Satisfaction Guarantee
The Brightech Lighting Promise
Brightech is committed to having you love your lighting purchase. Not only do they offer free shipping on all orders over $50 to the 48 contiguous United States, you can also return your purchase for FREE should there be any issues.
Looking for even more value? Sign up for the Brightech email list and you'll save an additional 15% off your first order.
Even in the short time we've incorporated our Mason lamp into our decor, we've received compliments on it from every single person who has seen it. We couldn't be happier with our unique LED floor lamp from Brightech and I hope you'll find a lamp you fall in love with too!
Order the Brightech Mason Floor Lamp
Disclosure: We received the Brightech Floor Lamp for free in exchange for our honest review. We've loved it so much, we can't wait to add more Brightech lighting solutions to our home! All opinions our completely my own.