This post may contain affiliate links, which means we may receive a small commission when you make a purchase at NO additional cost to you. Thank you for supporting our site in this way!
Who doesn't love getting your groceries delivered? If you've been curious about trying Walmart grocery delivery, I have a promo code so you can try it for free! Plus, I'm sharing how you can win a Walmart gift card giveaway and over $1500 in prizes.
Walmart Grocery Delivery Giveaway
But don't take my word for it. Join me this coming Friday for a Twitter Party where you can not only learn more about grocery delivery but win BIG prizes as well. I'm thrilled to partner with Savings.com, Walmart and Valpak to share these savings tips with you.
Walmart Grocery Delivery Twitter Party
Join me and my friends this Thursday as we tweet about all of the benefits of Walmart Grocery Delivery.
But it wouldn't be a Twitter Party if there weren't prizes! Over $1500 worth of prizes will be given away over the course of the 60 minute Twitter party, including: (6) $25 gift cards, (2) $50 gift cards, (1) $100 gift card, and (1) $150 gift card grand prize.
Remember, you have to RSVP to be eligible and make sure to use the following hashtags too: #WalmartGroceryDelivery & #WalmartWIN
Walmart Grocery Twitter Party Date and Time
Join me for the Walmart Grocery Twitter Party on Friday, December 7th at 10AM PT/1PM ET until 11AM PT/2PM ET.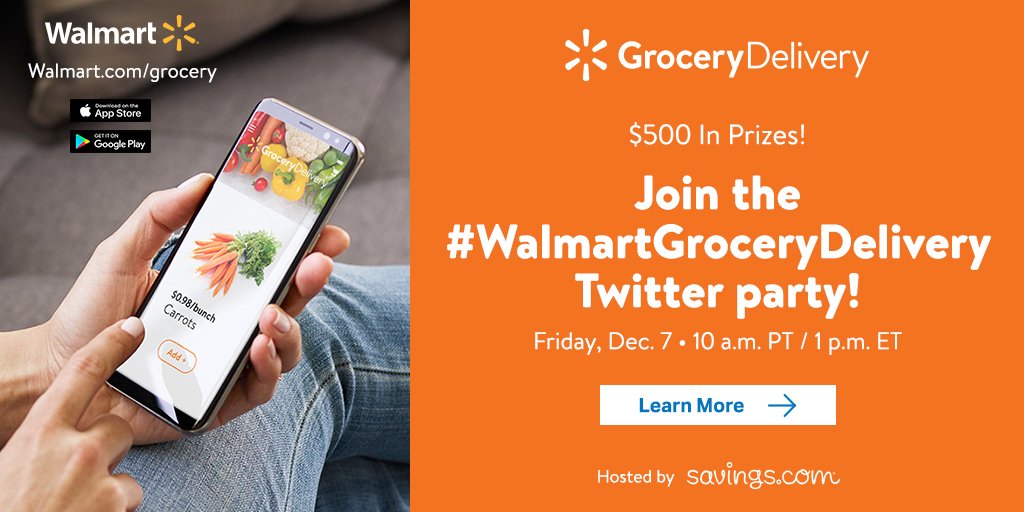 Walmart Grocery Delivery Giveaway
Not only can you win during the twitter party, you can also enter the giveaway going on now through December 7th to win a $50 Walmart Grocery Delivery gift card!
Here is the information you need to know about the #WalmartGroceryDelivery Giveaway
The giveaway runs Monday, December 3rd at 12:00 AM ET to Friday, December 7th at 11:59 PM ET.
Ten (10) winners will receive a $50 gift card from Walmart.
You can enter the giveaway by heading to the Walmart page on Savings.com and submitting your email address on the form at the top of the page.
The winners will be chosen through a lottery drawing and notified on Monday (12/10) via the email address you used to enter.
See complete Official Rules for entry instructions, full prize descriptions, restrictions and other important details.
Walmart Grocery Delivery Promo Code
Of course we want you to participate in the Twitter Party & Giveaway, but even if you don't you can still take advantage of this Walmart Grocery Delivery Promo code. Get your first three Walmart Grocery deliveries free with when you use the code DISCOVER which is good through January 31, 2019.  More and more communities are offering this delivery service, so don't wait to see if your neighborhood is one of them!
I've tried Walmart grocery delivery in the past and it was just as easy as you'd imagine. In fact, I just saw an investigative report on the Today show about grocery delivery services; not only was Walmart faster than its competitor, their prices were cheaper too!
Now that you have all the details, you have no excuse not to join us on Friday and experience Walmart grocery delivery for yourself. Tweet you then!