This post may contain affiliate links, which means we may receive a small commission when you make a purchase at NO additional cost to you. Thank you for supporting our site in this way!
Disclosure: This is a sponsored post for Walmart Online Grocery. When I found out Walmart online grocery service had finally arrived in Nashville, I couldn't wait to try it and share my experience with you. The opinions in the post below are my own and I hope your family benefits as a result!
There is an exciting new service that is now available in Nashville: Walmart Online Grocery!
Perhaps you've heard of the concept: you shop online, place your order and then pull up to your local Walmart at an appointed time and they deliver your order directly to your car. I'd heard rumors about such a service, but figured it either wasn't true or carried a hefty convenience fee.
Well I'm here to tell you Walmart Online Grocery is not a myth, it's here in Nashville and it's completely free!
Walmart Online Grocery is a new way to shop for groceries. It's super convenient for busy parents because you don't even have to get out of your car. You simply order your groceries online, select a pickup time, arrive at the store, and an associate will bring your groceries out and load them in your car for you.
Let me show you exactly what this looks like…
Walmart Online Grocery Ordering
The first step in the Walmart Online Grocery ordering process is to visit Grocery.Walmart.com and determine what Walmart stores offer this service in your area. All you have to do is enter your zip code and you're on your way.
Once you do this, you're ready to start shopping! You can either register with an account or simply start looking for items on your grocery list.
I was amazed at all the Walmart departments I had at my fingertips. Perhaps I don't look closely enough when I shop at Walmart – I typically go in to grab something specific and don't meander through the aisles, but I was shocked at all the options I had, especially when it came to organic and gluten-free items.
For instance, when I typed in "Gluten Free Oats", I was shocked that Quaker Oats even made such a product, but they did…and it was only $2.58 – about a third of the price of some of their designer competitors.
What also surprised me was that you can add items to your cart other than groceries. Sure, I know you can find pretty much ANYTHING at Walmart…I just didn't know they'd load it up and deliver it straight to my car if it wasn't a grocery item. Who knew I could add a DVD player alongside a pot pie?!
Be aware, there is a $30 minimum. This is not the service you're looking for if you just need that quick bottle of milk or loaf of bread…but then again, if you've been following my frugal advice for any time now, you should realize running out for one thing at a time on a regular basis is a waste of your time and money.
You also need to schedule a specific, one hour window when you will pick up your order. When I originally started exploring this service, you had to book about 24 hours in advance. I had planned to "shop" while my son was at practice and then run by to pickup right after. Not so much. It made sense; I should have figured you need to give the store time to process the order and gather the items, which means scheduling your pickup 1-4 days from the date of your order.
But now you can get your Walmart Online Grocery order within 30 minutes! There is a fee for this service, but it's a great option for those days when you're in a crunch.
Walmart Online Grocery Pickup
After placing my order, I promptly received an email confirmation.
It was abundantly clear about where to go, when to go there and how I could edit my order if I needed to before my designated pickup time.
Once arriving at my local Walmart on pickup day, the clarity continued in the signage that directed me to my online grocery pickup. It started with directions directly on the pavement: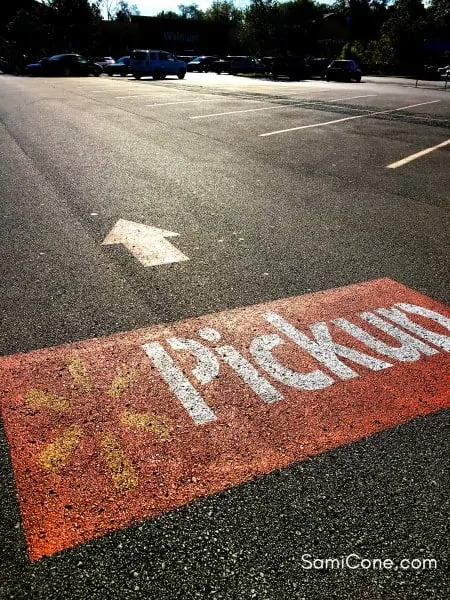 Once I got closer to the building, I found more signage directing me towards the back of the building:
There were several clearly marked parking spots to pull into, each with the dedicated phone number to call to let them know I'd arrived. I'd also received a call confirming my order was ready and John, who personally put my order together, reiterated exactly what I needed to do when I arrived.
I called the number and within minutes, John and another Walmart associate brought my groceries to me, loaded them into my trunk and confirmed no substitutions had to be made. He also explained that my satisfaction was guaranteed and if I was unhappy with anything once I got home (for instance, if my produce wasn't up to my standards), I could call him to make it right.
Want to see Walmart's online grocery in action? Watch my Daily Dash where I broadcast live from my first pickup! Hear my thoughts about the process and my reaction immediately after my order was filled:

Walmart Online Grocery Review
Walmart's online grocery pickup service not only saved me time from not shopping in the store, but by shopping online, I was able to find EXACTLY what I was looking for with their simple search feature (and even some things I've bought elsewhere for years for a lot more money that I never thought Walmart would carry).
In summary, here are my top 4 highlights of Walmart Online Grocery pickup:
1. Walmart's online grocery pickup service saves you time, money and effort by doing the shopping for you.
2. It's easy and fast. You order online, select your pickup time and location, show up and they load your car within minutes.
3. Peace of Mind: Walmart's dedicated team picks the freshest items – guaranteed, or your money back.
4. It's Free! There are no service fees (for their standard service) and you can expect the same Everyday Low Prices found in stores.
And who said that you can't save on groceries unless you clip coupons? Not only is Walmart Online Grocery a completely free service – with no service fees or markups – you can save even more money through promo codes and referrals.
For instance, save $10 off through November 1, 2016 with code REALEASY plus, you can earn $10 off your order with everyone you refer. Now that's savings I'll gladly share!
Walmart Online Grocery Discount Code
What: Save $10 for Walmart Online Grocery service
When: Through 11/1/16
Code to Use: REALEASY
Where to Shop: click Grocery.Walmart.com to get started
So what are you waiting for? Start clicking so you can become a #GroceryHero yourself!