This post may contain affiliate links, which means we may receive a small commission when you make a purchase at NO additional cost to you. Thank you for supporting our site in this way!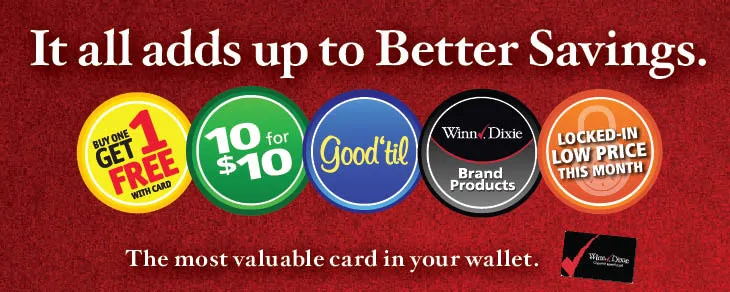 Here are this week's Winn Dixie Deals for Florida. These are the best deals (according to percentage saved); you can also see the full list of sale items and coupon match-ups at The Coupon Mom.
Find any deals not mentioned here? Please post a comment below!
ITEM
Insert Date
Cpn Value
Sale Price
Buy Qnty
Final Price
Purina Chef Michaels Canine Creations Dry Dinner 5 oz pouch (cpn is for 1 FREE up to $1.00)
08-23 RP
$1.00
$0.00
1
FREE
Glade Sense & Spray Starter Kit
08-23 S
$4.00
$6.99
1
$2.99
Muellers pasta 16 oz. (excluding lasagna, multi-grain or whole wheat) BOGO FREE
08-09 S
$0.55
$0.80
2
$0.53
Spray 'n Wash trigger stain remover BOGO FREE – coupon expires 8/30
07-19 S
$0.50
$1.60
2
$1.10
Get Upromise eCoupon
Niagara spray starch 22 oz. non-aerosol or 20 oz. BOGO FREE 
05-31 S
$0.25
$1.00
2
$0.75
Post cereal 14.5 oz. Honey Bunches of Oats, 15-20 oz. Shredded Wheat, 16 oz. Bran Flakes, 20 oz. Raisin Bran or 24 oz. Grape Nuts BOGO FREE
07-26 S
$1.00
$2.25
2
$1.75
Betty Crocker Pop Secret Microwave Popcorn 3 pack BOGO FREE
08-16 S
$0.50
$1.55
2
$1.30
General Mills 25.2 oz. Honey Nut Cheerios BOGO FREE 
08-16 S
$1.00
$3.00
2
$2.50
 
Yoplait Fiber One Yogurt Multipacks 4pk – coupon expires 9/05
07-12 S
$1.00
$2.50
1
$1.50
Yoplait Fiber One Yogurt Multipacks 4pk
08-09 GM
$1.00
$2.50
1
$1.50