This post may contain affiliate links, which means we may receive a small commission when you make a purchase at NO additional cost to you. Thank you for supporting our site in this way!
This is the final post in a series I've been collaborating on with XFINITY. As part of this program, I received compensation for my time. I'm already an XFINITY customer and they did not tell me to purchase any of their products. XFINITY believes that consumers and bloggers are free to form their own opinions and share them in their own words. XFINITY's policies align with WOMMA Ethics Code, FTC guidelines and social media engagement recommendations.
Life is about choices – you choose what you want to wear, what you want to eat, what you're going to do this weekend…don't you want to be able to choose from the most options on TV?
With XFinity On Demand, you can do just that!
Friday is always Family Fun Night for us, which typically means pizza and a movie at home (well, multiple pizzas, or at least one big pizza with multiple toppings since we all like different things: I'm gluten-free, one kid only likes cheese, and the other is a meat eater and NO vegetables can touch it 🙂
Just like I'm sure we all have different likes and dislikes when it comes to our pizza, the same can be said for TV watching. After all, every household is bound to have it's fair share of differences when it comes to show preferences: some may love reality TV while others vote for SciFi and even others still stand by straight up comedy.
But whatever your family is in the mood for, I can GUARANTEE XFINITY's On Demand has you covered! With nearly 130,000 more choices than Google Fiber, it's a great feature of their service.
Just look at it by the numbers:
* XFINITY's On Demand library hosts more than 150,000 free choices. Google Fiber's only holds around 17,000.
* XFINITY On Demand gives you 9x more free TV shows and movies than Google Fiber.
* The latest episodes of the top 100 shows are preloaded and ready to watch.
* With the XFINITY TV App, XFINITY allows you to access that On Demand library of TV shows and movies from your mobile devices, meaning you've got access to more than 21,000 select TV shows and movies you can watch on the go on your tablet or smartphone.
And even when you're not at home, you can open up a world of possibilities by downloading On Demand TV shows and movies to your mobile devices. That means you can also buy your favorite movie On Demand, then watch it on the plane while traveling (even when you're not connected to Internet!).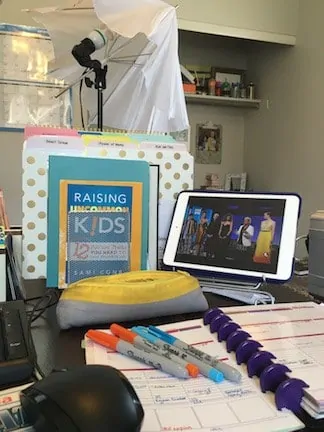 I have to admit, I'm a sucker for a certain few reality TV shows that I like to binge watch while working during the day, so the ability to watch them On Demand on MY schedule is exactly what I need.
For example, I can catch up on all my favorite episodes of Big Bang Theory, watch Top Chef (AND Last Chance Kitchen), or I can pour through all the various spin-offs of Project Runway!
And yes, as you can see, my kids take advantage of XFINITY's On Demand as well, catching up on their favorite shows and checking out a variety of Family-Friendly movies that starred younger versions of today's pop icons 😉
And you don't just have to watch on your mobile device. We'll be taking advantage of the On Demand features from the living room on the comfy couch tonight, but I love that I have the flexibility to enjoy my shows where I want, WHEN I want.
Want to check it out yourself? Visit http://tvgo.xfinity.com/ to see if your favorite TV shows or movies are available On Demand now.
In the meantime, I've got some episodes to binge watch…