While at the American Girl Chicago store this weekend, we discovered the American Girl Daily Deals running from December 1-12. I've NEVER seen sales like this at American Girl, so of course I couldn't keep it to myself.
There are a few different American Girl deals going on this December, so here's what you'll want to look out for:
American Girl Daily Deals
1. 20% off all American Girl Full-Priced Merchandise
Yes, you heard me, save 20% off all full-priced merchandise through 11:59pm on 12/12/15. There are very few exclusions, so it's quite incredible to know that almost everything is on sale in some way shape or form.
2. Daily Deals
Every day through December 12, you can find different daily deals in the store. You can't find out what they are in advance, but for example, today you could save on 9 different Grace items, including the doll and book on sale for $84 (regularly $120).
Did you know you can get @American_Girl of the Year, Grace, for only $84 today?! #DailyDeal @WaterTowerPlace pic.twitter.com/SnHZh01zqm

— Sami Cone (@TheSamiCone) December 6, 2015
3. Pajama Sets for Girls & Dolls $40 total
This is my FAVORITE deal. Just to give you an idea, we got Kariss the Kaya pajama set for girls and dolls for a TOTAL of $40, where the PJ's for girls (actually a cute lounge set) is normally $48 and the doll outfit (actually Kaya's Pow-Wow dress of today – that comes with a headdress & boots) is normally $42. So to recap: the set is normally $90 and we paid $40 – that's over half off! You can get this deal with almost every girl/doll matching pajama set, with just a few exclusions.
4. Costco gift cards
Costco has $100 worth of American Girl gift cards on sale for $80 (another 20% savings!). We bought these before we came to Chicago knowing we'd want to do some Christmas shopping for our daughter here. The associate at the register said she's probably scanned over 2000 of such gift cards, so obviously I wasn't the only one with this idea 🙂
5. Mall Coupon
With the Premier Passport from Water Tower Place, Kariss was able to pick out her choice of "Smart Girl's Guide" books with a purchase of $100 or more (she chose A "Smart Girl's Guide to Boys"…God help me!) – another $13 of savings.
All in all, I saved almost as much as I spent! (And I only had to pay $12 out of pocket at the store itself).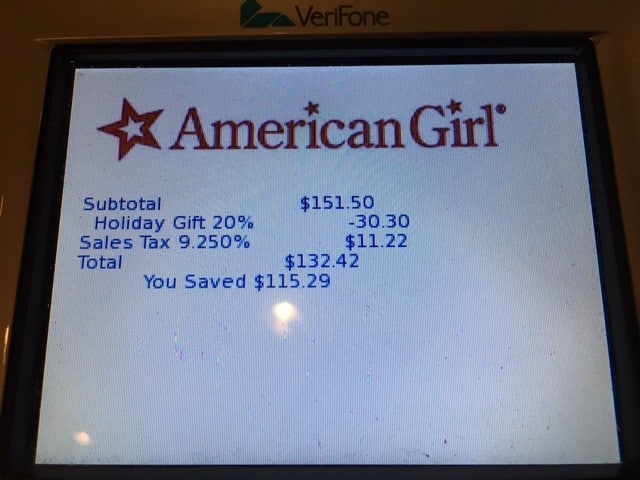 Again, you RARELY see American Girl deals like these (except for the American Girl Steals & Deals that happen about twice a year on the today show). And the best part is, you can either call an American Girl store directly or you can shop on AmericanGirl.com (and through 12/7, you can get free shipping with code LASTFS).
So what are you waiting for? Surprise the American Girl lover in your home this Christmas with something she really wants at a price you can really afford!