This post may contain affiliate links, which means we may receive a small commission when you make a purchase at NO additional cost to you. Thank you for supporting our site in this way!
Last month I told you all how excited I was to receive the new Baby Cargo Georgi "Stroller" bag…
I use the tern 'stroller bag' loosely because it's been about four years since I've had to use a stroller, yet I still was insanely intent on getting this bag.
The main reason: POCKETS. I love purses with pockets: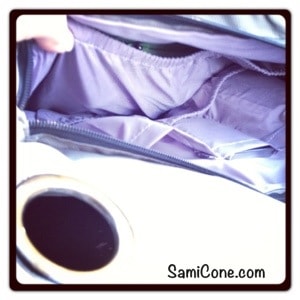 Of course, it doesn't hurt when the interior is one of my favorite colors…in this case, known as 'fig'.
I removed the changing pad it came with and quickly filled it with a lovely assortment of pens, lip gloss, notebooks, my iPhone, frequent shopper cards, hand sanitizer, gum and the like…and I didn't lose any of it thanks to the specially designed compartments.
Sometimes functional means it's not fashionable, but as you can obviously see, this is not the case with the Georgi bag:
Though I haven't had the chance to use the brass grommet rings for umbrella strollers…
or the attachment snaps for strollers with one handle, I've made it my must-have mom bag for when I'm on a mission. The lightweight (& easily cleanable) fabric with brass details makes it easy to keep clean, especially when keeping it with me while I'm saving the world, one recycling trip at a time:
In a way, I think of the Georgi bag as my mobile office, whether keeping my electronics close by for a business meeting on the run, or helping me sort my coupons when I'm at the grocery store or impromptu photo session with the kids:
If I had any complaint, it would be that sometimes I actually forget which of the many pockets I've stored something in!
I can't wait to give this as a gift, since I have SO many friends having new babies right now. And with the variety of bright, eye-popping colors, I know I can please every one of my friend's palates 🙂
Don't let the brand name of 'Baby Cargo' throw you off, these bags are brilliantly beautiful. So whether you have a baby or simply want to benefit from some smart moms who created an amazing bag, this is one you have to look into!
 Disclosure: I was provided this bag for the purpose of reviewing it, but all delightful comments are exclusively my own 😉