This post may contain affiliate links, which means we may receive a small commission when you make a purchase at NO additional cost to you. Thank you for supporting our site in this way!
So if you've been reading my blog the past few weeks, then you know that Kariss has thoroughly been enjoying her Barbie Photo Fashion Doll and the freedom it's allowed her to capture memories of some truly special events she's been a part of. So when we had the opportunity to kick-off the holiday season at Opryland hotel this past weekend, of course Barbie had to come along for the ride!
Opryland has been voted the most "Christmassy Hotel in America", so there was no shortage of sights to take pictures of, but what surprised me most was that everyone but Kariss was using Barbie to take pictures!
Since Kariss had Nutcracker rehearsal and wasn't with us when we first arrived at Opryland, her younger brother was more than happy to capture the view outside our room from our balcony: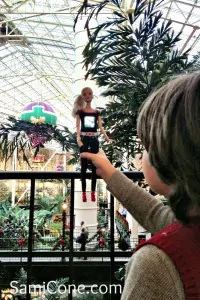 I don't know what was prettier, the view of the Opryland Garden Conservatory or seeing the lovely Barbie with the beautiful pictures she took of this amazing sight on her fashion t-shirt!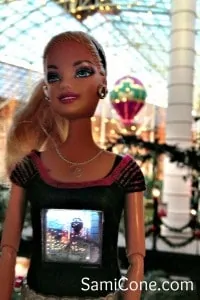 Kariss joined us not long after just in time for one of Opryland's most popular Christmas attractions, ICE! But now we met up with friends who had a 3 year old daughter who was enthralled with our Barbie Photo Fashion doll! Luckily, Britton agreed to pose so she could take a few practice shots.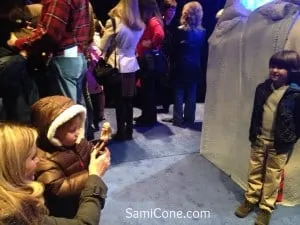 What makes the Barbie Fashion Doll so fun is her tool belt that not only allows you to control how you move through your photos when you view them on her shirt, but it also allows you to choose the special treatments you add-on to the photos you take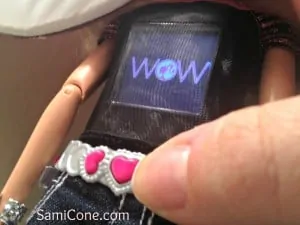 Your budding artist can even download FREE software from the Barbie Photo Fashion Doll website so she can edit the photos even further online!
The Barbie Photo Fashion Doll is one of 2012's Hot Holiday Toys and you can watch everyone from Talk of the Town rave about it from my TV segment here (I've also found some great deals on it for you too!)
We've loved sharing our Barbie Photo Fashion doll stories with you. I hope it's inspired you and your little girl to create some of your own together!
Disclosure: This is a sponsored post from One2One Network. Mattel product and additional incentives were provided to me to participate, but I did because I knew my daughter would LOVE this doll and I couldn't wait to share it with all of you!