This post may contain affiliate links, which means we may receive a small commission when you make a purchase at NO additional cost to you. Thank you for supporting our site in this way!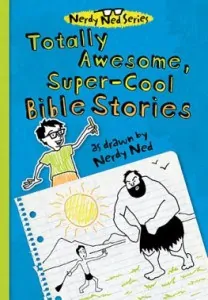 I know there's a Nerdy Kid book revolution that's been going on in the past few years, but to be honest, my kids haven't been old enough and I haven't been interested enough to check it out.
But then came along the "Totally Awesome, Super-Cool Bible Stories as drawn by Nerdy Ned" from Tommy Nelson. I love books that share actual Bible stories as seen through the eyes of a child. But this book is unique because Ned isn't just learning his way through the Bible, he's drawing his way through it too!
Designed for kids ages 6-10, I first thought this would be the prefect title for my 8 year old daughter who loves to draw, but then I thought it would be great to introduce to my son. He's just at the age where he's transitioning from 'kid' books to some more advanced readers, yet he still wants a book that looks 'fun'.
And to be honest, there aren't a lot of books out there that target boys this age that still look cool.
"Totally Awesome, Super-Cool Bible Stories as drawn by Nerdy Ned" not only capitalizes on the super-popular sketch comic art genre, but of course it also includes blank pages for doodling. And let's not forget, it shares actual Bible stories from the International Children's Bible with commentary by "Ned" to draw in readers and add thoughts for practical life application.
I don't know about you, but this book reminded me of not only all the doodles I've gotten from my kids after church. I love seeing how they process what they hear about in church through their art. So I thought I'd giveaway a copy of the book to one reader who answers the very simple question below…
I can't wait to hear what you guys think about this title! Of course, if you can't wait to see if you've won, you can buy Totally Awesome, Super-Cool Bible Stories as drawn by Nerdy Ned and just use code SAMIC20 at Thomas Nelson to save an extra 20% off! (Wouldn't this make a great road trip book this holiday season?!)