This post may contain affiliate links, which means we may receive a small commission when you make a purchase at NO additional cost to you. Thank you for supporting our site in this way!
Welcome to what my son has creatively called BLACK NOVEMBER. That's right, instead of Black Friday this year, stores are offering Black November deals all month long.
Black November 2020
Because of the pandemic, Black Friday 2020 is going to look very different this year. Not only will many stores not open for Black Friday, they are offering Black Friday deals the entire month of November. (Hence my son's clever naming of Black November).
In order to prevent crowds and space out shipping demands, be on the lookout for substantial savings starting on November 1, 2020.
I will continue to update this post with Black November deals as I find them. I do have one important tip: DON'T WAIT TO SHOP. Here's why:
I don't foresee deals going lower than they'll be offered this month.
Return windows have been extended. If you shop now, most stores will let you return items into early January.
Price-adjustment is always an option. It's better to get what you want when you see it and ask for an adjustment if you do find a lower price.
Price-matching is still an option. If another store has it on sale for cheaper than your preferred store, ask if they'll match the price.
That's about all you need to know: Don't Wait. Shop Early. Monitor Prices. So let's get on to the deals…
Black November Deals
The biggest savings going on already are with the big-box and department stores you'd expect. Here are a few notable Black November Deals to start shopping:
Costco
The newest ad book lasts 10/28-11/22. This likely means they will have new deals for Black Friday and the holidays. However, there are several gift-worthy items available already, such as:
Instant Pot: $59.99
Roomba: $80 off
Oster Digital French Door Oven: $99.99 ($40 off)
Folding Drone: $49.99
(Keep in mind you need to be a Costco member to take advantage of these savings. A Costco membership could also be a great gift for a family member!)
Target Black Friday Deals Now

Get your Black Friday deals now at Target. Every week in November, Target is offering new deals in week. It seems the deals are focused in 3 categories:
Every Thursday-Sunday, you can preview the next week's weekly ad with the new Black November deals.
Walmart Black Friday Deals for Days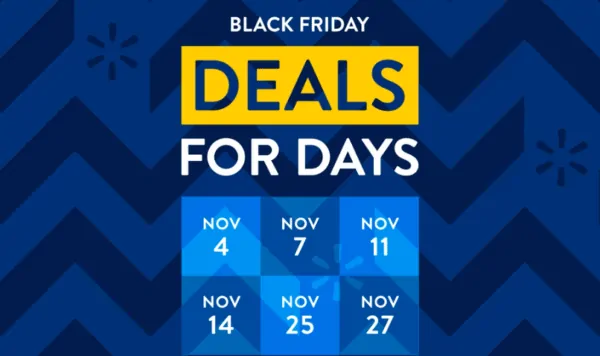 This year, Walmart is rolling out Black Friday Deals for Days. Black Friday Deals for Days! Look out for three separate savings events across the month of November to give you even more chances to catch the hottest deals of the season:
Event 1 starts on Walmart.com Wednesday, November 4th at 7 p.m. ET. Even more new deals will roll out on November 7th online at 12 a.m. ET, and 5 a.m. local time in stores.
Event 2 will begin on Walmart.com on Wednesday, November 11th at 7 p.m. ET, with more deals coming to Walmart.com on Saturday, November 14 at 12 a.m. ET, and in stores starting at 5 a.m. local time.
The month of savings ends with the third Black Friday Deals for Days event online Wednesday, November 25 at 7 p.m. ET. Watch for more new deals landing Nov 27th online at 12 a.m. ET and in stores 5 a. m. local time. 
Sample Walmart Deals
Here are a few of the Walmart Deals for Days you can expect to see during the different roll-outs:
November 4: onn. brand 42-inch UHD Roku TV for only $88, and popular Hotel Style bath towels for $5
November 7: Magic Bullet Blender available for only $15 and a New Bright 1:6 scale RC Truck for $40
Throughout the holiday season, you'll discover savings on new items from top brands like HP, Instant Pot, LEGO, L.O.L. Surprise!, Roku, Shark, and deals on many Walmart-exclusive items, too.
Check specific deals in my Walmart Black Friday Deals for Days post.
November Department Store Deals
Here are some of the best sales from my favorite department stores:
JC Penney
Keep up with the current JC Penney sale.
Macy's
The current Macy's Sale is their Friends & Family Sale.
More Black November Sales & Discount Codes
Save up to 25% off during the Disney Store Friends & Family Sale with code DISNEYPAL, plus get free shipping on order of $75+.
You can also use this printable coupon for in-store purchases (or show on your smart phone):
Shop Vera's Holiday Party for 30% off all orders through November 8.