This post may contain affiliate links, which means we may receive a small commission when you make a purchase at NO additional cost to you. Thank you for supporting our site in this way!
This summer, I had the opportunity to return to Club Med Sandpiper Bay for a blogger trip. While Club Med Sandpiper Bay (in Port St. Lucie, FL) is known for their famous Kids Club and being the only all-inclusive resort in the continental U.S., the focus for me this trip was unique.
You see, ever since I moved to Nashville from Florida almost four years ago, my best friend and I have been dreaming of taking a 'girls' weekend' away…somewhere that we could relax and spend wonderfully conteplative moments together over great meals, but also find time to pursue our own interests and of course, relax in a beautiful setting.
So when I learned I could bring a guest on my trip, I called Carolyn and off we went!
As we neared the end of our long weekend at Club Med, I asked Carolyn what she thought about our time together there. Since I used to work for Club Med, I realize my opinion can be skewed because I already find so much pleasure and value in a Club Med vacation. But I thought her sentiments perfectly summed what you can expect at Club Med:
"It's like summer camp, but all grown up!"
After all, just look at what we were able to do each day:
Morning yoga looking over the bay

 Then on to a tennis lesson (yes, I know I used to be a tennis GO, but I took an intermediate tennis lesson and whew! I don't know how I used to do that for 8 hours a day!)


I also humored Carolyn, who is an excellent golfer, by taking an intermediate golf lesson with her. These are perhaps my favorite photos from the entire trip: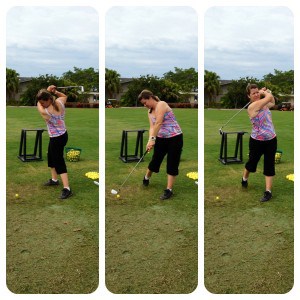 Of course, one of my FAVORITE aspects of Club Med Sandpiper Bay is the circus school. I dangled myself from a hula hoop hanging from the ceiling (I'm sure there's a more technical name for it, but I can't remember at this time):

Not bad for someone who's closer to 40 than 20, right?
I also convinced the circus GO's to teach me how to do a back handspring and a back tuck on the trampoline. (I had asked my kids' gymnastics gym for lessons, but they said I was too old to insure – OUCH!)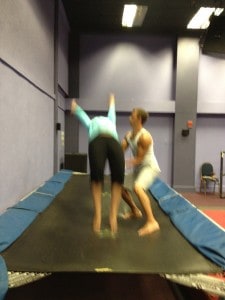 And of course, I had to take a swing on one of the iconic elements of Club Med Sandpiper Bay, the full size circus trapeze!

I even got a personal training session from one of their Club Med Academy professionals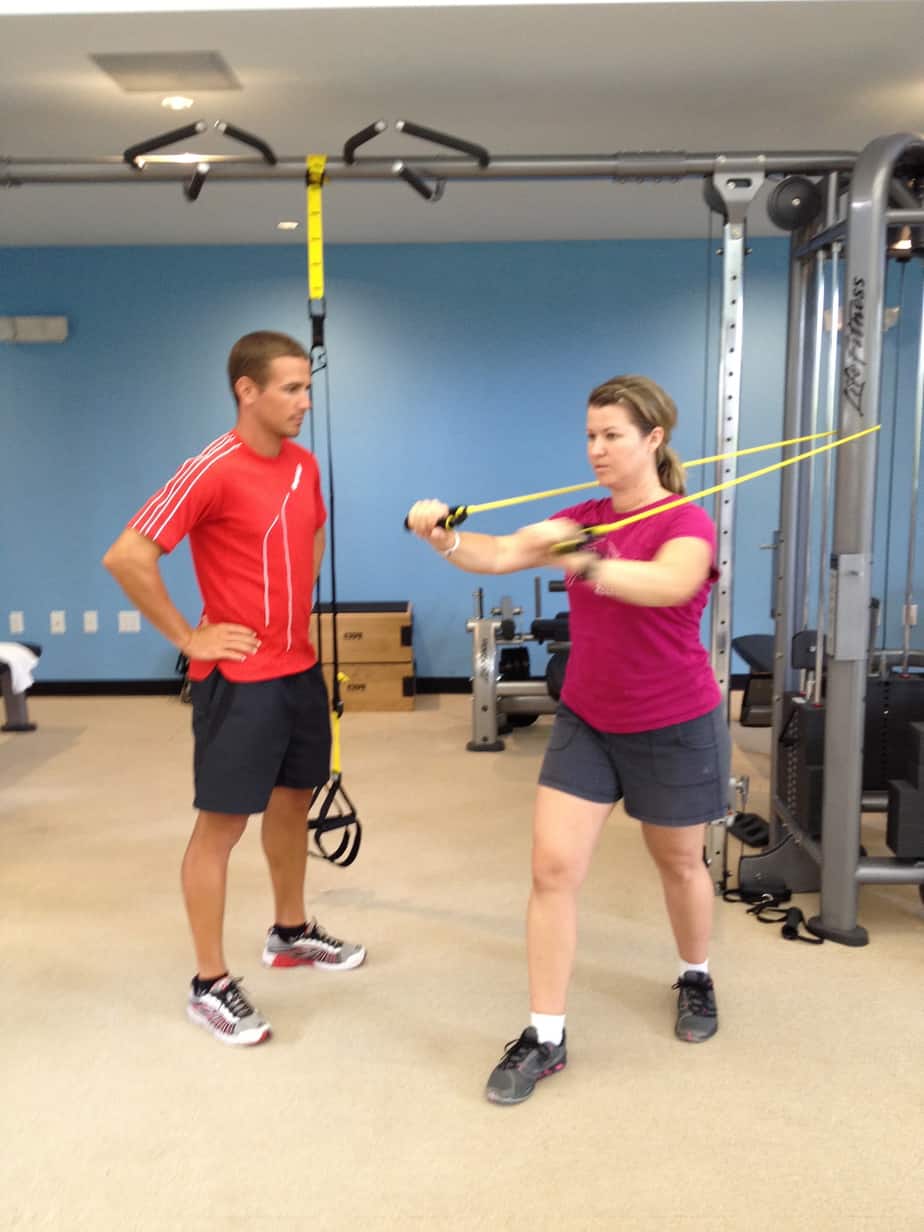 Tired yet?
Of course, we found plenty of time for the aforementioned relaxing that I was craving, including morning devotions on our patio


…a incredibly relaxing massage at the L'Occitane Spa (also the only L'Occitane spa in the US at this time)

…and we even found an incredible two-person lounge on the beach

(If you want to see ALL the fabulous Club Med chairs that I fell in love with, check out my "Where will you sit at Club Med?" post)
And took a sunset cruise down the St. Lucie River. Aren't we cute?


It goes without saying that we found time for fun too! We learned how to make watermelon and a virgin mojito recipe
 Danced the Crazy Signs around the pool…

And I couldn't resist doing a little art in the Britto Art Center (they said anyone can play & create! Plus Romero Britto is my all-time favorite artist):

 Of course EVERYTHING we did couldn't quite compare to the satisfaction of eating the infamous White Chocolate Bread at ever meal 😉

Even in the rain, we still had fun

But most importantly, we were able to spend time together at a place that let us do as much or as little as we could possibly think of:

So if you haven't checked out Club Med yet, or thought Club Med may have been out of your price range, just look at the sale they have going on right now. Club Med is offering early booking rates and kids under four stay free starting in summer 2013 vacations. 
To take advantage of great rates, guests must book by Oct. 29, 2012 for travel April 27 – Oct. 26, 2013. This limited time offer is available at the following Club Med properties:
Sandpiper Bay, Florida
Cancun Yucatan, Mexico
Ixtapa Pacific, Mexico
Punta Cana, Dominican Republic
Columbus Isle, Bahamas
Turkoise, Turks and Caicos
Caravelle, Guadeloupe
Buccaneer's Creek, Martinique
So what are you waiting for? Whether you're looking for a fun family getaway, a romantic weekend to re-connect, or a sports-lovers paradise, you can find any and ALL of it at Club Med! I just can't wait for my next trip 🙂
Which Club Med activity would you most like to try?