This post may contain affiliate links, which means we may receive a small commission when you make a purchase at NO additional cost to you. Thank you for supporting our site in this way!
My honest Air movie review: this is the Greatest Movie of All Time about the GOAT Michael Jordan!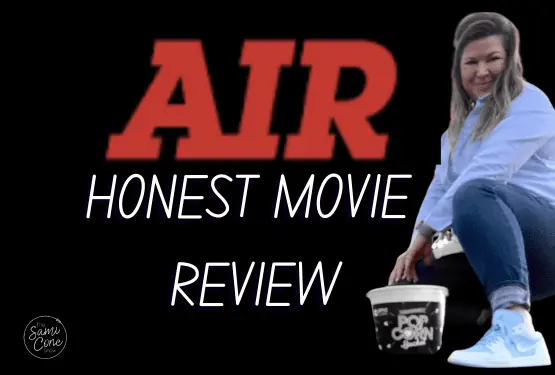 Honest Air Movie Review
I want to personally thank Ben Affleck and Matt Damon for making the greatest movie of all time about the greatest basketball player of all time, Michael Jordan!
Spoiler Alert: This movie was incredible!
Lifelong Bulls Fan
Full disclosure: I'm a Chicago native, aka a lifelong Bulls fan…I even went to UNC for my Masters Degree because Michael Jordan went there. My daughter is now at UNC and my son is a huge UNC fan as well. Yes, all because of Michael Jordan.
It was going to take a lot for me not to love this film. But thankfully, that never came to fruition, because it was fabulous.
The One Thing I Didn't Like About Air
Let's just clear the air, shall we? (I had to!) There was only one thing I didn't like about Air…
It lacked suspense.
Sure, this is an issue with may films inspired by true stories. But I find most of those have elements we don't know about them. Or perhaps they took place before we were born? Neither was true of the Michael Jordan Nike story.
We all know how this one turns out.
That being said, there were elements of the story that were new, even to a superfan like myself. So let's move on to what was done well…
3 Things I LOVED about AIR
1. The Power of One Person
We know Michael signs with Nike. Yes, Nike is now a HUGE company. But back in the 80's, Nike wasn't so cool…or big…or profitable.
Getting Michael Jordan to align with Nike was no small feat. It took the ingenuity of one man. And then that man had to convince several men that he wasn't completely crazy. And then that man had to fly to North Carolina to convince Michaels's mom that this could actually be a good idea.
Never forget that behind every business is an individual with a dream.
2. The Power of a Mother
Michael Jordan's mom, Deloris, is a bad a**. Or let's just say she's an angel.
Really, she's both in one: she's a tough businesswoman. At the same time, she's an incredibly caring, loving and beautiful mother.
There's a line in the movie that is so powerful! When Deloris is trying to convince Sonny to do something that's never been done by telling him how special her son is, he basically insinuates that she has to believe that way because he's her son.
Instead, she pushes back and says something to the effect of, "Do I believe it? Or am I just reflecting the belief he already has about himself?"
Whoa.
If we can all have someone like that in our corner (& moms, if we can all be that for our kids), we get major mom points!
3. You Never See Michael Jordan
One of the most brilliant elements of Air is that we never see the face of the actor portraying Michael Jordan.
Because the filmmakers included actual clips of Michael throughout the film, I kept wondering how they would fill Michael's shoes onscreen (literally and figuratively). Fortunately, they escaped any criticism by only showing an 18-year-old Michael from the back or side view.
Absolutely Brilliant.
More That I Loved About Air
I know I said I loved three things about Air, but I'd be remiss as a reviewer if I didn't throw in a few bonus features.
80's Lovers' Dream
If you love the 80's, you'll be obsessed with this movie (especially the soundtrack). If you don't know much about the 1980's, just watch the first few minutes of the film to get the ultimate pop culture crash course.
Best Buds Ben Affleck & Matt Damon
There's just something about Matt Damon and Ben Affleck movies. They're friends IRL. Even when they're acting, I believe them together. It just works.
AIR Tickets
I saw Air at our local AMC. It's just over 2 hours long. Make sure you watch the end credits because there's even more awesome Michael Jordan footage included. Make sure you check out my other honest movie reviews while you're here!