This post may contain affiliate links, which means we may receive a small commission when you make a purchase at NO additional cost to you. Thank you for supporting our site in this way!
Have you seen the new Illustrating Bible yet? This ingenious creation allows creatives to have more space to journal and doodle alongside God's Word, but with a new twist (which I'll get to in a minute). But since this is such a new, hot product, I thought I'd collect as many new Illustrating Bible reviews into one place so you can decide if this is the Bible for you or not.
Introducing the Illustrating Bible! A Bible that has been specifically designed for the Bible Journaler.

Best Features of the Illustrating Bible
The new Illustrating Bible has two distinctive features:
Metallic spiral binding
Lay-flat design
Yes, you read that right, this BIBLE is spiral-bound, which means you can either lay it open flat without trying to use your phone as a paperweight OR, better yet, you can bend the cover all the way back for easier writing on pages.
As much as I love being creative and breaking out every color pen in the rainbow, I'm not the best at hand-lettering. What I do love though is being able to write all over my Bible and make notes without writing over the printed text.
Why hasn't someone thought of this before???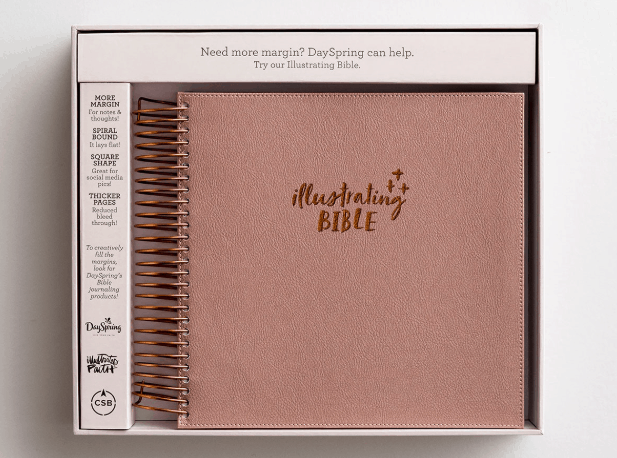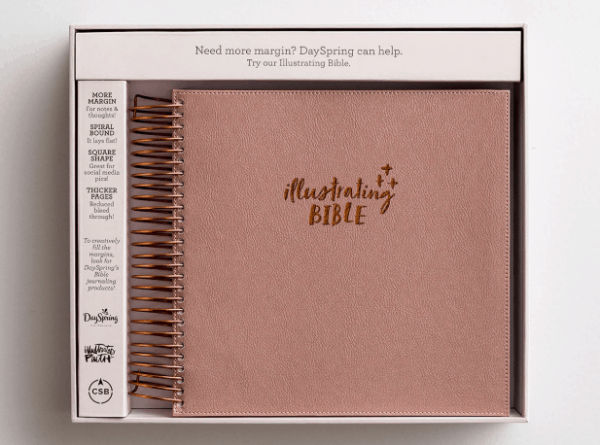 Illustrating Bible Details
According to Dayspring.com, this is what else you can expect to find with the Illustrating Bible:
Pages 75% thicker than typical journal Bibles to reduce bleed through
3 3/4″ wide margins with blank space for journaling and creativity
Bible Size: 9 1/4″ x 9 1/4″ x 2″
Packaged Size: 11 3/4″ x 13 3/4″
Version: CSB – Christian Standard Bible
Faux leather cover
Foil stamp detailing
Faux suede liner on inside covers
936 pages
8 point font size
Single column
Premium keepsake box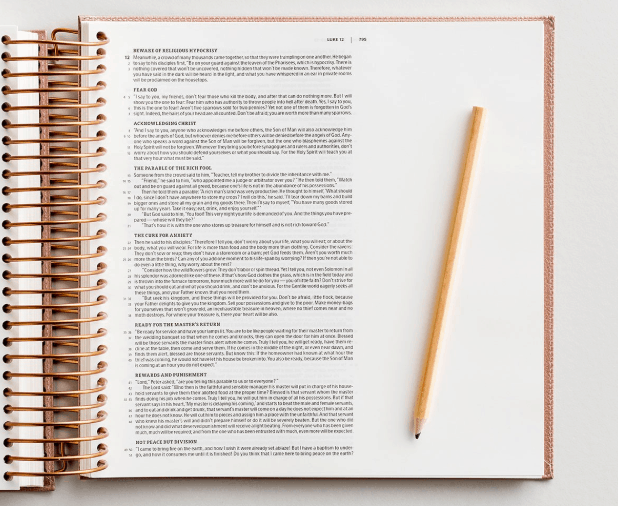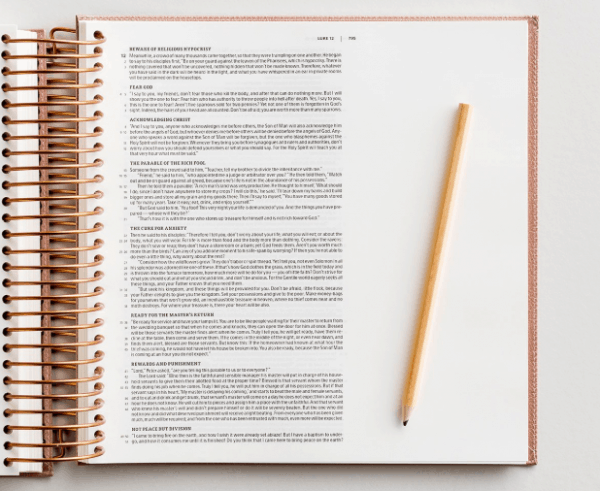 Illustrating Bible Critiques
Before I even get to the Illustrating Bible reviews, there are three glaring issues you may have already noticed above, but I feel obligated to point out:
This Illustrating Bible is only offered in the CSB
The font is small (8 point font)
It costs $99!
Illustrating Bible Font Size
I don't wear glasses, but even I think 8 point font is a bit small, but seeing as this Bible is already pretty thick to begin with, I can see why they didn't go bigger. But this isn't the worst of its faults…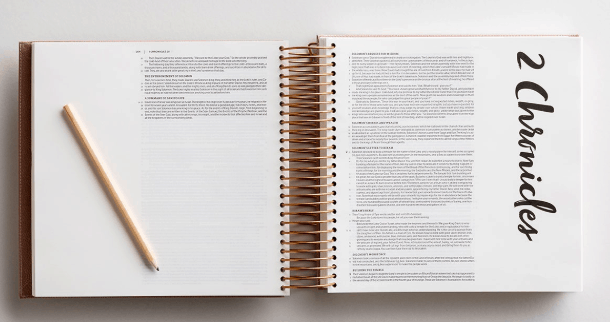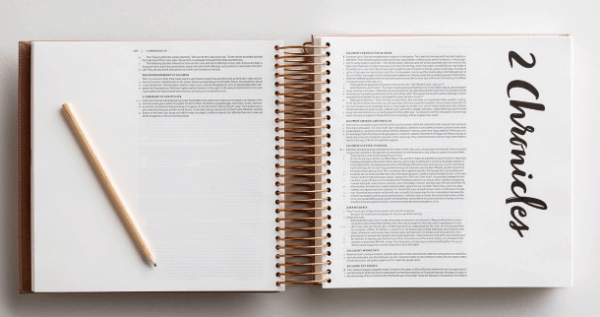 Illustrating Bible Version
I realize everyone has their own favorite version of the Bible (my go-to is the NSV, but I also have NLT and The Message), but I don't know many people who have the CSB. You may be able to overlook it not being your preferred Bible version if you don't intend on making this your primary Bible, but this final critique may be what pushes you over the edge…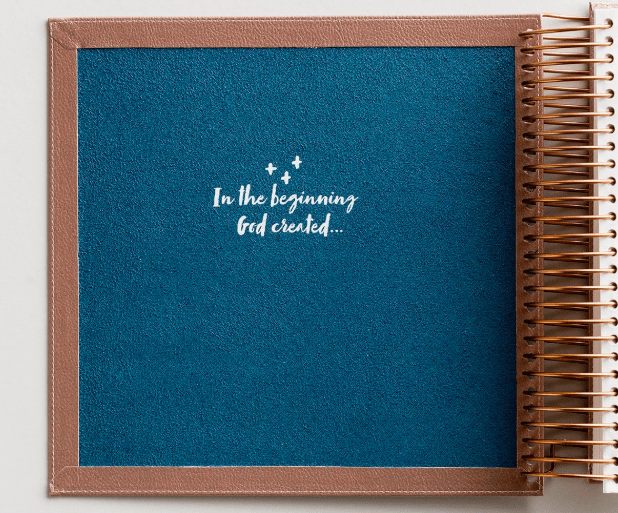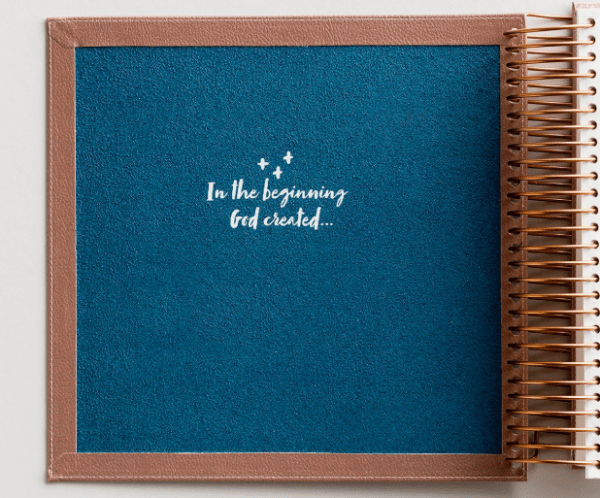 How Much Does the Illustrating Bible Cost???
The illustrating Bible costs $99.
Yes, you read that right: $99.
I realize Bibles are not cheap, but this seems to cost about twice as much as any Bible I've bought in recent years.
The one way I've found to get more for your money if you are still interested in this product is to preorder the Illustrating Bible. If you preorder before it releases on September 12, you will get a free goodie bag.
New Illustrating Bible Reviews
Now that I've given you all the details about the new Illustrating Bible, along with my favorite features and the obvious critiques, I wanted to compile some advance Illustrating Bible reviews that have already been posted.
As of the publish date of this post, the Illustrating Bible had received an average review of 3.3 stars on Dayspring. Here are some of the most helpful reviews I found:
FOR THE ARTIST: Works With Many Mediums ~ Tracie (5 stars)
I was thrilled when I used my Mermaid Inks on it and they didn't bleed through the page. Of course if you use a ton of ink, you can pretty much get anything to bleed through any page! The pages are much thicker than standard Bibles, but not as thick as a sketchbook. I'd probably estimate them as thick as printer paper – so what you can do with printer paper, you can do with this Bible.
BEAUTIFUL LOOK, TOO EXPENSIVE ~ GMom (4 stars)
Beautiful looking bible, but too expensive. The print is not large enough for the seeing impaired. I would love to see this in a Spanish/English/parallel form in a 12 or larger font. Will keep praying for this "Miracle"!
ON THE FENCE ~ Alli (3 stars)
I love the spiral bound, lay flat, bigger margins. The font size seems right, though a larger print option in the future would be beneficial. I'm disappointed in the translation selection, though. A selection (as with font) in the future would be amazing!
FOCUSED ON THE FONT ~ MrsPepe (3 stars)
Having not purchased this Bible yet I can see a lot of good use and fun to be had using it. However, for those of us who are vision challenged font size 8 is too small. True, the book will become heavier, but since it has such nice spiral format it should be fine. Font size 12 or even more would be more restful for our eyes. Thank you for printing a Bible more useful for artists.
LOST IN TRANSLATION ~ Mimma (2 stars)
Not availavle on NIV or ESV versions. The font it's too Small and the cost is too pricey for the majority of the people.
Illustrating Bible Review Summary
Like most Bibles, I think it's safe to say, this isn't for anyone. For most of us, this isn't something we'd just go online and buy with one click on a whim because of it's cost.
That being said, I'm still elated about the thought of adding a spiral-bound Bible to my collection and having the freedom to write as much as I want in my quiet time.
I also think this would make a BEAUTIFUL gift for Mother's Day, graduation or as a thank you to a woman in ministry (especially if you're looking for a nice gift to chip in and buy as a group).
If this convinced you, you can click the link to buy the Illustrating Bible now, or simply click on the banner below.
Not ready to take the plunge, why not round out your Illustrated Faith journals, pens and accessories in the meantime?