This post may contain affiliate links, which means we may receive a small commission when you make a purchase at NO additional cost to you. Thank you for supporting our site in this way!

Mary Poppins the Musical will be bringing some Broadway magic to Nashville's TPAC from March 20-25, 2012! Disney worked with the legendary Cameron Mackintosh to bring the best the best of the iconic film and the classic P.L. Travers' books to life on stage for a new generation of audiences.
Mary Poppins has been a part of our family for a long time; I'd even venture to say we were destined to love this character. After all, my mom was born in England, we named our son Britton (after her native home) and it was the first non-animated film our children ever saw.
Obviously we're a Disney loving family, so you think our son would be more attached to Mickey or one of the other Disney Junior characters. But after he had just turned two, his biggest moment at Disney World came when he found out Mary Poppins herself was making a rare appearance at the Princess Storybook breakfast in Epcot!
He wanted patiently for her to arrive at our table, yet was brokenhearted when she finally appeared.
Holding his own replica of her infamous umbrella, he looked up at her with his big, brown eyes and asked sadly, "Where's Polly?"
Uncharacteristic of the traditional princess breakfast protocol, Mary paused a moment and then walked 'backstage'. We looked at each other quizzically, until just moments later she returned with her own umbrella friend. I think this picture tells the impact it made on Britton far better than I ever could: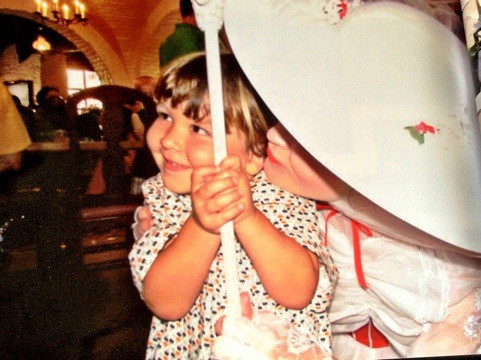 The smile says it all; it's safe to say she made a fan for life that day.
We later met Mary back in the World Showcase, where she spent more precious moments with our kids and made memories to last a lifetime.

So perhaps it shouldn't surprise us that Mary Poppins the Musical officially opened on Broadway the very same year our precious Britton was born. We've been dying to see the story come to life on stage ever since and the opportunity is finally here – and we couldn't be more ready!
It's for that reason I jumped at the chance to speak with Rachel Wallace today, who has played Mary Poppins with the touring company since September.
My first question, which I thought was brilliant, obviously was not a new one to her: "While I'm excited to see this role brought to life on stage," I confessed, "I'm nervous about messing with such a classic."
She confessed that most people share my response and went on to say that "if you're familiar with the books, the production is the best of the books and the film combined. The spirit that you love from the film (as well as the majority of the songs) are present on the stage, though both the new characters and the old ones have slightly different journeys. People who come into the theater loving the film can rest assured knowing they'll see everything they love, but will also see things from the book incorporated as well."
Rachel actually began with the cast last January as a member of the ensemble and understudy for the role of Mary. As a Disney fan and self-proclaimed aficionado, I was curious how long and how grueling it was to transform into the role of Mary Poppins. I was amazed to find out she was given 3 months to learn the role! "I was given a lot of time to learn things very carefully."
But it was what she said next that actually brought me to tears and affirmed why we love the Disney brand so much. She was told by Disney 'We don't want you to emulate anyone else. When you're at your best & happiest, you are Mary. That's why we've cast you'. Rachel confessed, "That's an incredible honor and privilege. They essentially told me, 'Be more you and that will be more her'. That's absolutely Disney's message: Work hard and be yourself and that will help make your dreams a reality."
Wow.
Before I let Rachel go, of course I had to inquire about the stunning outfits we associate with Mary. As it turns out, Bob Crowley, who designed both the set and the costumes, won a Tony Award the year the original production came out on Broadway and accomplished amazing things on both fronts. As Rachel explained, "The iconic white dress has been shifted so things read as brightly on stage as on film, but nothing jarring; it still embodies the essence of the character."
Yes, I'd agree; "bright" seems to be the perfect word to describe the setting on stage:
The role has been a "Disney Dream come true every step of the way" for Rachel. "I was in college when <Mary Poppins the Musical> came to be, and I just knew I had to be a part of the show one day. The experience has been a gorgeous one."
Rachel went on to tell what was truly special about this production: "… it is everything you want a big, glittery Broadway production to be – the amazing sets, stagecraft, magic and beauty you would hope for, but it has a heart and is a perfect show for any age."
As a parent, I've always tried to reconcile her role in the children's lives. I think Rachel explained it simply and eloquently: "The most important part about Mary Poppins is that she's not there to replace the parents; they're already everything they need to be (they just couldn't see that at the time). She leaves in the end because the parents finally recognize that fact are now able to do it on their own."
I realize seeing musical theater is not always the most economical experience. However, part of my mission of this blog is to help you save where you can so you can spend where you want. I would much rather see you spending money on making memories together as a family than collecting 'stuff'. It seems that even Mary herself agrees with me:
"This story brings people alive and gets them in touch with the most loving, youthful part of themselves. Everyone needs "feeling better" and that's a worthwhile use of funds and family time."
Tickets for MARY POPPINS actually start at $30.50, which is quite reasonable compared to its NYC counterpart, and are available at the TPAC box office (505 Deaderick Street), by visiting www.tpac.org, or by calling (615) 782-4040. We're hoping to attend opening night on Tuesday, March 20, but you have 8 opportunities to catch the show during their Nashville tour stop.
Have any of you seen the show yet? Will we see you and your family there?