This post may contain affiliate links, which means we may receive a small commission when you make a purchase at NO additional cost to you. Thank you for supporting our site in this way!
I've been asked SO many times about my watch, I thought I'd set the record straight and share my new favorite frugal fashion watch that I've found…and believe it or not, it's from Nordstrom!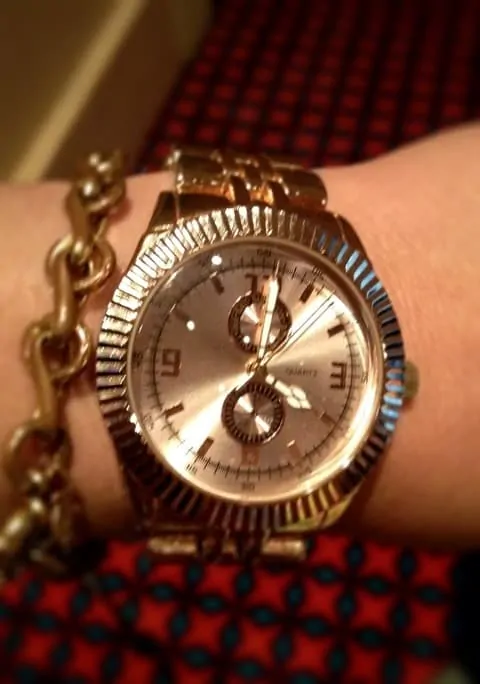 This is a rose gold watch I picked up at Nordstrom in the Juniors department for….wait for it…$18!
I've ALWAYS been a fan of gold, even though I feel like everyone and their sister in my generation is a silver or platinum girl. But I also like bigger jewelry. So you can imagine how hard it's been for me to find a large, gold watch at a great price that looks like it didn't come out of a gumball machine.
I used to have a Swatch that I loved until the band stretched out. Then I found a 'boyfriend watch' at Target that mysteriously disappeared (I think my husband 'lost' it while I was away one weekend because he didn't like it 😉 But it wasn't until I took a trip to the bathroom in Nordstrom that I found the gem above.
In fact, they had a whole rack of $18 watches in a variety of colors: white, tortoise, silver, yellow gold and what you see above: the rose gold.
Though I never really knew what rose gold was, I realized most of my other 'gold' jewelry that I love (I find great pieces at J Crew – like the bracelet above – and Banana Republic) had more of a rose tint to it. So this piece has fit in perfectly to my wardrobe!
I've gotten compliments everywhere from the grocery store to the TSA agent at the airport yesterday (true story!). Most people think it's a Michael Kors watch, which retails over $200 (which you know I'd never spend on something I could lose so easily 😉

SO there you have it. My secret is out.
Do you have a favorite frugal fashion piece?
Shop Nordstrom right now during their Women & Kids sale!