This post may contain affiliate links, which means we may receive a small commission when you make a purchase at NO additional cost to you. Thank you for supporting our site in this way!
Let's face it, as moms, we get into a rut.
I don't know about you, but I can never seem to get my to-do list done by the end of each day, so the thought of taking the time to do something for myself usually doesn't cross my mind.
But what I'm coming to discover the older I get and the more years I spend as a parent is that running myself ragged doesn't do anything to help my productivity.
In fact, the times when I even take 10 minutes to just sit quietly by myself does wonders when it comes to restoring my sanity.
So when I was recently invited to a morning at Omni Nashville's Mokara Spa by Sitting Made Simple, I jumped at the chance.
Not only were they treating me to a morning of pampering, but they were offering to watch my kids at the hotel: a win/win.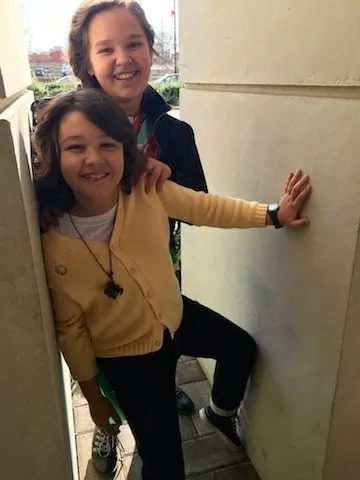 After all, part of the dilemma of doing something for yourself involves not only the cost of whatever it is you decide to do, but then the added hassle of finding childcare.
Couple that with the fact that as my kids get older, they're not just looking for someone to sit with them while I'm gone, but they want a babysitter that truly takes an interest in what they are into and will engage with them while I am gone.
So off I went to the Mokara spa. Before going into the spa, I met with the owner and sitters from Sitting Made Simple Nashville, and while the kids were hesitant before we got there, they easily went with the flow once we arrived.
One of the benefits of receiving a spa treatment at the Mokara Spa is that you have access to the spa for the entire day, including their steam room and relaxation suite. So for the half hour before my service, I took advantage of everything they had to offer, including simply sitting in one of the chaise lounges with a cup of tea before my name was called.
While I had originally asked for a reflexology treatment, after talking with my therapist, I opted for half reflexology/half targeted massage and although it was only 30 minutes, it was one of the best spa sessions I've ever had.
All in all, I'd say the kids were with the Sitting Made Simple professionals for about 90 minutes. What I liked about having them meet us at the hotel was that I wasn't paying for extra travel time with them while I went to and from the hotel, and I also knew they were close by me for this first meeting. It's also a cost that easily could have been split with a friend should we have decided to meet up at the spa.
Plus, the kids LOVED the sitters from Sitting Made Simple Nashville. They actually played WITH them and took a genuine interest in them.
Here's our review on Periscope after the event:

And look what Britton made from pipe cleaners while there:

While Sitting Made Simple may be a name known around other parts of the country, they kicked off their Nashville services on January 1 and I'm thankful to say I have a FREE codes to give away to two of you!
All you have to do is enter via the Rafflecopter widget below:
You have until 11:59 on 1/23/16 to enter. Good luck and I can't wait to hear how you all are able to get away and pamper yourselves with the help of Sitting Made Simple Nashville 🙂
Disclosure: Sitting Made Simple treated me and some other Nashville mom bloggers to the event at the Omni, as well as providing a free code for myself and two to giveaway to my readers. I was not required to write this but did so because I was so impressed with them, their values and their delivery of service.