This post may contain affiliate links, which means we may receive a small commission when you make a purchase at NO additional cost to you. Thank you for supporting our site in this way!
Disclosure: This post is sponsored by LivRelief. I am not a doctor and the ideas presented below are my own.
Like many moms, I'd consider myself a sports mom.
We're not to the point where we're traveling hours away to competitions, but we are in the stage where our kids are trying out a lot of different sports throughout the year to find what they're truly passionate about.
Just take a look at what my son has gotten himself into over the past two months:
Soccer: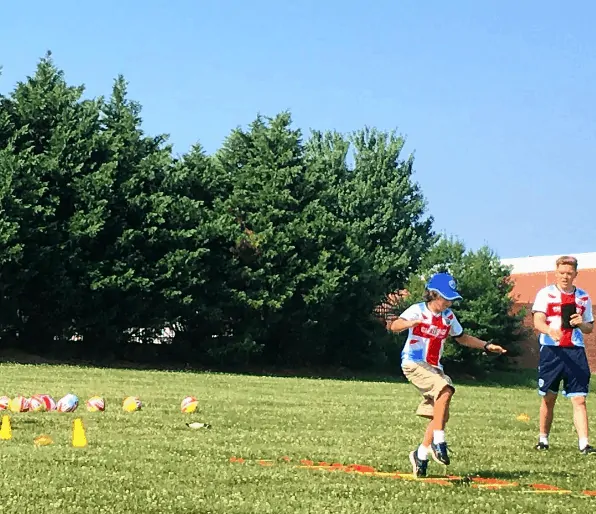 swim team:

football:

and the sport where I think he'll land for the long haul, tennis:

But with all these sports come a lot of aches and pains. So what's a sports mom to do?
Over the past year, I have been diligent in trying to update our personal care products with more natural yet equally effective alternatives. It dawned on me that our skin is our largest organ that not only covers our entire body, but accounts for around 16 percent of our body weight.
For instance, if I'm eating gluten free, why would I then slather lotion with gluten in it all over my skin? So even if I was making the best food choices to go in my body, why would I counteract that effort by allowing junk into my family's blood stream through our skin?
But we're not just talking lotion, you have to read the labels when it comes to face cleansers, soaps, & creams…just to name a few.
Perhaps the biggest area we've been trying to revamp is our home "health care". After all, these are products that are supposed to make us feel better, not contribute to the problem.
After some research and recommendations from friends I trust, we found LivRelief.
LivRelief Ultra Strength Pain Relief Cream is fast-acting, long-lasting, non-irritating and dermatologist tested. More importantly to this mom, it contains no parabens, no petroleum, no propylene glycol and no SLS. And yes, it's even fragrance-free AND gluten-free.
This topical analgesic provides temporary relief of minor aches and pains of muscles and joints associated with everything from arthritis and backache, to strains, bruises and sprains. LivRelief is powered by DelivraTM, a revolutionary delivery system that delivers active ingredients under the skin to help relieve pain at the source, and let you get back to doing the things you enjoy.
What interested me most about LivRelief (besides all the unwanted items its free of) is Dr. Joe Gabriele, the Canadian co-founder of LivRelief and Delivra. I learned he never intended to launch an international company that develops and manufactures pain relief creams. In fact, he was a happily married molecular pharmacologist with two kids and a fulfilling academic career. But when his wife underwent surgery to remove a large tumor in her nasal cavity, one of her facial nerves was severed. The result: electro shocks of pain so debilitating that she was bedridden for months.
"We were going through hell every day," Dr. Joe says. Determined to ease his wife's suffering, Dr. Joe teamed up with a formulation specialist to develop patent-pending Delivra, a revolutionary delivery system and LivRelief Ultra Strength Pain Relief Cream, Dr. Joe's wife is back on her feet, practicing yoga and competing as a ballroom dancer. "LivRelief is one tool in your toolbox for living a longer and more productive life," Dr. Joe says. "I wouldn't want anyone to go through what we went through."
We've found the same results with LivRelief. In fact, more so than the after-sports applications I mentioned above, our family has found it especially effective in treating the ever-present 'growing pains' that seem to plague our tweens most frequently at night.
That's why we've learned to simply leave the cream close to our son's bedside. Since he's ten, I feel comfortable allowing him to apply it himself if he awakes in the middle of the night with leg pain.
One of his favorite qualities about LivRelief is that it doesn't tingle or smell bad like so many comparable creams we've tried. But don't just take our word for it: clinical trials have shown just how fast it acts and how long its relief lasts.
Here are five ways it differs from other topical pain-relief treatments on the market:
TARGETED RELIEF: LivReliefTM products are the only ones that use DelivraTM, a patent-pending transdermal delivery system. Delivra delivers LivRelief's active ingredients deep beneath the skin, addressing pain at its source.
A NEW APPROACH TO PAIN: LivRelief is the first over-the-counter pain-relief product that addresses and blocks five pain pathways.
THE BEST OF THE BEST: All ingredients in LivRelief products are certified, selected for their purity and quality, and sourced primarily from Nordic and European countries, which maintain some of the world's highest standards for consumer safety and environmental protection.
NO TINGLE, NO SMELL: Unlike other pain-relief products that burn or tingle when applied, or smell like menthol or worse, LivRelief doesn't produce any unpleasant sensations (sensations that really only serve to distract you from the pain). And it has a pleasant, faint fragrance.
BACKED BY THE MEDICAL COMMUNITY: LivRelief was developed by a respected molecular pharmacologist, and it's been tested and approved by established members of the medical community.
Ready to try it for yourself? LivRelief is for sale on Amazon.com, so you don't have to go searching for it in a store.
If you're like me and you've been searching for more natural pain relief for your active kids, I hope you've found your answer. And of course, I have a great deal so you can try LivRelief for yourself:
LivRelief Coupon Details
What: Buy LivRelief now and receive $2 off your purchase
Where to buy: Coupon code valid at Amazon.com
Coupon Code: ONU56TLN
Expiration Date: 11/1/16 at 11:59PM PT
Disclosure: Though I was compensated for this post, it's one I sought out to participate in because of the reasons mentioned above. I hope you found our story beneficial, informative and relatable. If you click on this LivRelief link, or the LivRelief links above in the post, please know that it is an affiliate link: this means that I will make a small commission on anything purchased through that link at NO extra cost to you…in fact, you won't even notice any difference in your shopping experience! Shopping this way through my affiliate links helps me to continue to bring you great deals and content every single day here on the blog. Thank you for your support!