This post may contain affiliate links, which means we may receive a small commission when you make a purchase at NO additional cost to you. Thank you for supporting our site in this way!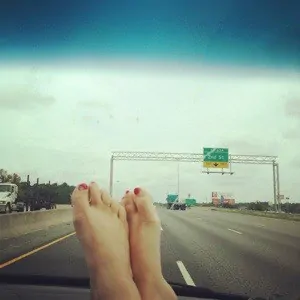 We've started the long road home to Nashville…
It's hard to believe that just a week ago I received the call from my husband that his dad had passed away and hours later I piled our two kids into the mini van to make the 13 hour trek down to South Florida amidst squalls from Hurricane Isaac.
It's a blur.
In the past week we've planned a funeral, buried my father-in-law, sorted through his belongings, relived a lot of memories and hugged an entire community.
We are emotionally spent.
Yet through it all, we've clung to each other and learned so much from so many of you.
1. It's not about me
I think this is fairly self-explanatory, yet it is something someone very close to me lovingly reminded me of 😉 It's easy to be offended when our expectations aren't met…and I think it's safe to say that when you bring a large group of people together who are all grieving in their own ways (not to mention exhausted and emotional), it's not possible to meet everyone's expectations. So the safest thing to do is to set your own aside. Max Lucado wrote a book on this very topic (It's Not About Me: Rescue From the Life We Thought Would Make Us Happy
) that included the following:
"The brevity of life grants power to abide, not an excuse to bail."
Yikes. I know I still have a lot to learn in this area.
2. Slow Down
We are busy. And yes, I recognize our lives are even busier than most (at least that's what I keep hearing from all of you!), but through this we have learned that we need to slow down and make time for God and each other. I think everyone can attest to the fact that there's never a convenient time for tragedy to strike, but when you're living your life on fumes, it makes those times even more stressful. In Bill Hybels' book, "Too Busy Not to Pray
", he reminds us that true prayer can't "happen on the fly", especially in this time when pain & distractions seem to be on the rise. While this week may have been a forced 'slow down' for us, I'm grateful for the people we were able to re-connect with (and especially for our multiple employers being so gracious in understanding the need to be with our family to help take care of the issues at hand).
3. Receive Help
Though I don't believe there's anything wrong with asking for help in a time of need, I understand how difficult it is to bring yourself to that point. Luckily, we never even had to ask this week 🙂 But for some who are used to being the ones offering aid, it can be equally difficult simply to receive help. This week I learned that as much of a blessing as it is to be the recipient of such a gift, there are those who truly enjoy giving in times such as these…and to deny them that would be robbing them of their joy. Their is an art to graciously receiving and while I am still learning that art, I loved witnessing the act of all of you sharing your blessings with us!
4. Life is a Gift, not a Guarantee
When we found out on June 7 about dad's brain tumor, we couldn't fathom that he only had 6-8 weeks left to live. Can you imagine being told that? What would you do differently? But then we realized – none of us know when we will die. Although dad was given a rough estimate, the reality was that any of us could have lost our life before he did. We're thankful for the memories we were able to make this summer, but also came to the bigger realization that we need to start living each day with more passion & purpose.
Listening to a Joyce Meyer podcast on the road yesterday, I was reminded of the story of the Good Samaritan and how he did exactly what he could do in the moment without shirking his current responsibilities. As we drive home today, I want the memory and lessons of these events to influence my day to day role as a wife, mother, friend, worker & volunteer, while not distracting me from my ultimate goal.
Our lives are fleeting, even if this car ride is not 😉
What lessons have you learned in grief?