This post may contain affiliate links, which means we may receive a small commission when you make a purchase at NO additional cost to you. Thank you for supporting our site in this way!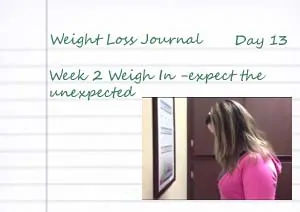 My life transformation journey with Blue Sky MD is continuing strong, but you may find my week 2 weigh in a bit unexpected:
Nothing happened!
Here are the numbers for Week 2:
Weight:   168.2 pounds (still)
BMI:         27.2
Fat %:      37.9% (down 2 points)
Waist:     (I learned that we wont measure again until week 4)
Hips:
So while I did end up losing 2 pounds of fat, it looks like I gained 2 pounds of water. That could be due to a few things, which I won't bother speculating here. I did also add weight training back into my routine this past week, so my muscles could be holding on to more water too (here's hoping that's it!).
Considering that my week was much busier and on the go, I guess I should be happy that at least I didn't gain any weight back this week! I did eat out twice, eat at people's houses twice and add more calories back into my diet, so that all plays a factor.
But the biggest issue (in my opinion) was that I wasn't journaling my food as closely as I should have been. While I was writing things down, I wasn't totaling my calories and carbs as I went along, which led my guessing what I should eat at the end of each day – leading me to actually eat too few calories on some days and not enough protein on others.
I was also reminded (& consoled) by my friend Kara today that this was typical of week 2 of weight loss – just look at what happens on the Biggest Loser every season 🙂 You lose a lot of weight in week 1 and then your body kind of goes into shock on week 2…well I'm here to tell you that I'm going to wake it up again!
After I had a little while to process the weigh in, I recorded this response:

It may not have been the response I wanted this week, but I'll be damned if I'm not going to learn from it and have a stronger week as a result of what I now know.
I've said it before and I'll say it again. It's the people at Blue Sky MD that really make the difference in this journey. I hope you get a chance to experience them as well!
Just so you know, Blue Sky MD has agreed to waive my fee for the program in exchange for me documenting my journey online (like my own little reality show!). I am
not getting compensated financially

in any way and (obviously) these opinions are all my own.