This post may contain affiliate links, which means we may receive a small commission when you make a purchase at NO additional cost to you. Thank you for supporting our site in this way!

I can hardly believe I'm already telling you about my week 6 weigh in at Blue Sky MD.
It's certainly been a roller-coaster: an amazing first week, two lack luster weeks that followed, and steady loss since.
I've finally learned to accept that I live a life that's on the go and I must adjust my eating accordingly. I've been out of town two weekends in a row, and will be out of town the next three weekends, which means my choices will not get any easier…but that's exactly what this journey has been about: making the best choices possible whatever the circumstances I find myself in!
It's also involved more planning than I'm used to. Even though the Atlanta hotel I stayed at last weekend had great options in their restaurant, their snack choices were lackluster. So I was thankful when one of my roommates, Crystal, offered to stop by Costco before-hand to bring some healthy options for us to share!
All I kept thinking this week was, "Please don't gain weight, please don't gain weight," and guess what….

Yes! I actually lost weight despite my travels! Here are the numbers:
Weight: 161.2 (that's over a pound lost!)
BMI: 26.0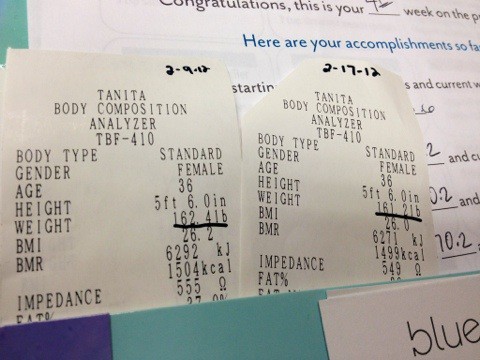 Again, I keep holding on to that water weight, but I keep losing fat! I didn't break the 160 barrier I was hoping for, but I'm so close! Because I'll be traveling again this weekend, I'll actually miss my weigh in, so you'll have to wait two weeks so see if I can finally crack it 🙂
My goal for this next week is to break the 160 barrier, but I have an event in Atlanta for 4 days, so I'll just have to face this challenge head on!
If you want to schedule a free consultation to see if Blue Sky MD is a fit for your goals, call the Brentwood clinic at 615-690-6600 or Check out their locations here – be sure to tell them Sami sent you!