This post may contain affiliate links, which means we may receive a small commission when you make a purchase at NO additional cost to you. Thank you for supporting our site in this way!
It was an amazingly beautiful 'Winter' day here in Nashville today: 70 degrees and crisp blue skies!
Since I spend most of the day inside with my home office organization project, I decided to hit the YMCA after I picked the kids up from school.
But the weather and lighting was so beautiful we decided to clown around outside a little before heading in to hit the gym equipment.
I've enjoyed sharing what I've been finding in my closet lately to create my "Working Mom Wardrobe Workout"; after all, I hope I'm not the only one who stands in front of my closet for what seems like hours trying to uncover something fun & fresh to wear that will not only look put together, but be comfortable enough to endure all a mom has to do in a day.
Here's what I came up with today: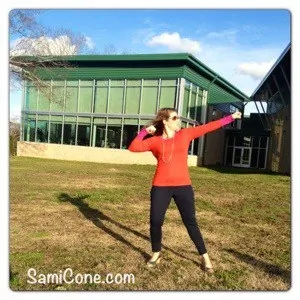 Here's where I found it:
* Color block long sleeve t-shirt: Gap
* Dark Wash Rockstar-fit jeans: Old Navy
* Metallic Wedge shoes: Cole Haan Outlet
* Sunglasses & Necklace: Banana Republic Outlet
What outfit did you put together on this warm winter day?