This post may contain affiliate links, which means we may receive a small commission when you make a purchase at NO additional cost to you. Thank you for supporting our site in this way!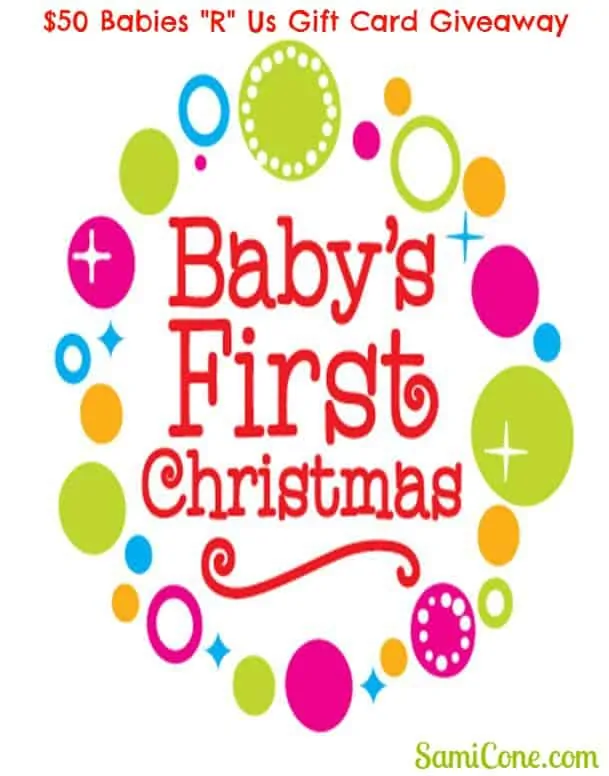 I don't consider myself old, but I definitely thought my days of attending my contemporary's baby showers was long gone!
Yet lo & behold, a ton of my friends in their mid-thirties are pregnant…again!
As the parent of two beautiful 'babies' who not only walk and talk, but who are now old enough to dress & feed themselves without my help, it's hard to imagine starting over again with a newborn.
But the moment I hold one of those precious sweet babies in my arms, it makes me wish God would just drop one in my lap!
So in honor of all my friends who will be celebrating baby's first Christmas (again) this year, I thought it fitting to hold a celebration…and who better to celebrate with than the ultimate baby destination, Babies "R" Us?
This holiday season, Babies "R" Us has been celebrating Baby's First Christmas by hosting a series of in-store events and online giveaways around this exciting time in a family's life. 
In fact, this Saturday, December 7th, Babies "R" Us will be inviting fans to come shop at their stores across the U.S. each Saturday for gift ideas, holiday shopping tips, deals, giveaways and much more to help families with kids of all ages, especially those with newborns, get ready for the holidays. Not only will you be able to cross names off your list, but also meet other parents in your neighborhood!s
If you're a Toys R Us  Rewards member, you can also continue to earn rewards dollars now through Christmas that can be used on purchases after Christmas (it's free to become a member).
So whether you're expecting yourself, or looking forward to the arrival of someone else's sweet bundle of love, celebrating baby's first Christmas can be even sweeter this year if you win a $50 Babies "R" Us gift card, right?
All you have to do to enter is share who you'd want this Babies "R" Us gift card for (even if it's for yourself 😉 Of course, to maximize your chances of winning, take advantage of all the other ways to enter too!
UPDATE: Congratulations to Kimberly, our winner!
And don't forget to visit Babies "R" Us this Saturday for their free, in-store event and hopefully your winning ways will continue…
Thanks to Babies "R" Us who generously provided the gift card for me to give away to help make someone else's Christmas extra special this year!