This post may contain affiliate links, which means we may receive a small commission when you make a purchase at NO additional cost to you. Thank you for supporting our site in this way!
Disclosure: This CUJO Smart Firewall Review was created in partnership with Best Buy for CUJO after I learned of the potential dangers of having so many unprotected wireless devices in my home. I received this product for free in exchange for my honest review.
As much as I love technology, it scares me to think of how vulnerable our home can be.
I thought I had done a good job protecting our home from cyber-attacks: we monitor our children's activity online, we limit the amount of devices in our home and we stay up-to-date on technology.
Or so I thought.
In fact, it wasn't until I looked at the CUJO app that I realized just how many wireless devices we had in our home!
So what exactly is CUJO?
CUJO is a smart firewall for the connected home, designed to bring business-level security to the home network. This one device secures all devices connecting to the WiFi router. CUJO detects and blocks malicious sites, viruses, and hacks.
Think of it like antivirus for your entire network.
Plus, CUJO lets you control what your kids access online and keep them safe.
You can set CUJO up in just a few steps, which are outlined on both the CUJO app and on their website.
While it was a little more difficult to set up than I had anticipated, but there was someone who walked me through installation on the phone and stayed with me until we verified it was working.
My favorite feature is the parental controls, so I not only see exactly what my kids are doing online at any given moment, but I can also control their access right from my own phone.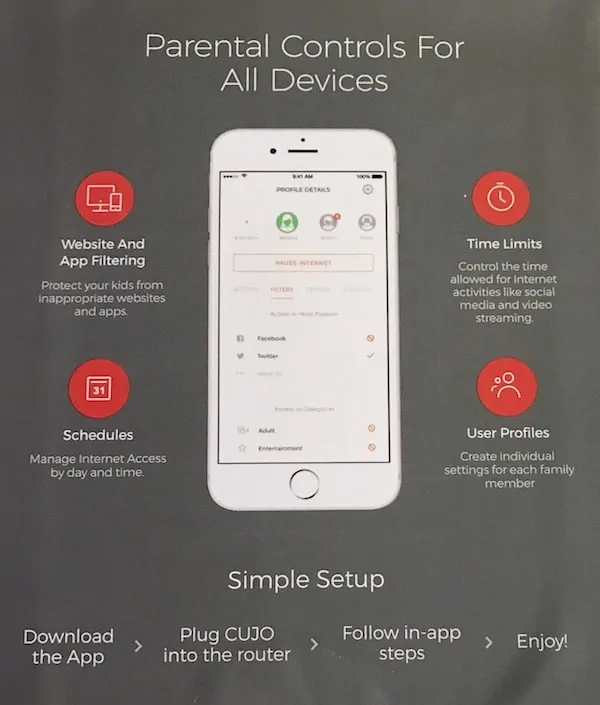 I can do all of the following right from my phone:
– internet filter
– time limits
– social media monitoring
– pause internet
Best of all, there is no monthly monitoring fee. CUJO is a one-time expense that protects your family for the rest of its life.
Right now, the CUJO Smart Firewall is on sale for just over $200 at Best Buy. I hope you'll find this product as valuable as our family does.