This post may contain affiliate links, which means we may receive a small commission when you make a purchase at NO additional cost to you. Thank you for supporting our site in this way!
The Palm Beach Marriott Singer Island restaurants blew us away on our recent family trip to the Palm Beach Marriott Singer Island Resort & Spa. From our poolside lunch to dinner overlooking the ocean, we found ourselves wanting to enjoy our favorite dishes again and again, rather than looking elsewhere on the island to eat.
In this Marriott Singer Island restaurant review, I'll take you along on our three-day culinary journey. Whether you're a local looking for a special night out or are planning your own trip and wondering how far you'll have to travel for great food, our experience will tempt your tastebuds while giving you a sneak peek into what your own culinary journey could look like.
The Palm Beach Marriott Singer Island Restaurants
The Palm Beach Marriott Singer Island features two main restaurants plus two additional eateries:
3800 Ocean
Lagoon Cantina
Reef Tiki Bar
Ocean Breeze Cafe
The Ocean Breeze Cafe is in the lobby, but this is more of a coffee shop and bakery rather than a sit-down restaurant. Unfortunately, we never did get to sample what looked like scrumptious baked goods and hand-crafted beverages.
In addition to the aforementioned restaurants at the Palm Beach Marriott Singer Island, you'll find three bars, one each located in 3800 Ocean (3800 Lounge), Lagoon Cantina and The Reef Tiki Bar. As its name would suggest, The Reef Tiki Bar is a bar just down the steps from 3800 Ocean and the infinity pool just before the path to the ocean. We only had drinks here, but you can order some Pacific-Rim inspired dishes too.
As I mentioned in my Palm Beach Marriott Singer Island review, I tend to be wary of resort food. I'm always afraid I'm going to pay too much for food I don't enjoy simply for the convenience of staying in my resort.
This couldn't be further from the truth when it came to our dining experiences at the Marriott Singer Island.
3800 Ocean: Inside for an Elegant Dinner
Our first night, we were treated to dinner at the resort's signature restaurant, 3800 Ocean. Pardon the metaphor, but we were swept away by the ocean views and elegant interiors.
3800 Ocean is open for breakfast, lunch and dinner. What we came to appreciate about the atmosphere was that we found an equal number of people dressed to the nines, seemingly celebrating a special occasion, as we did casually dressed families who were finishing off a day enjoying the beach.
Each bite was thoughtfully curated with masterful seasoning and presentation. (I could have made a meal out of the two shrimp appetizers alone!). I couldn't tell you the last time I've seen a Jumbo Shrimp Cocktail truly live up to its name. And after tasting just one of the Sesame Tempura Rock Shrimp, I knew that evening wouldn't be the only time I ate this dish during our trip (see below).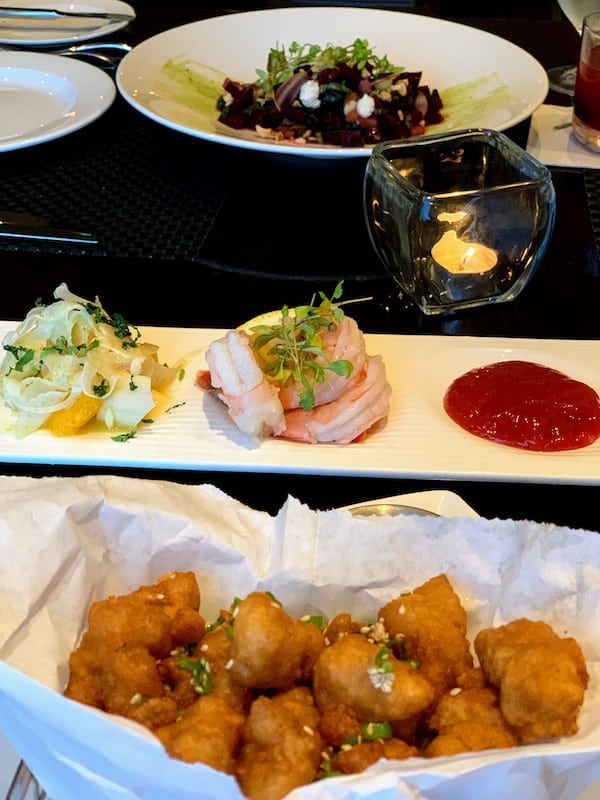 How could I pass up a wedge salad topped with crispy onions? While this classic steakhouse offering can be bland, my salad from 3800 Ocean offered a robust gorgonzola dressing and crispy applewood bacon. I easily could have made a meal out of this and the shrimp. But then I would have missed out on everything to come…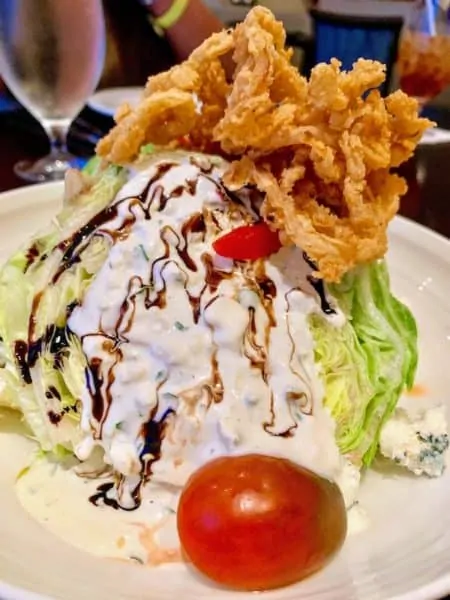 For our entrees, my husband and I couldn't decide between the Griled Beef Tenderloin with potato pavee and butter roasted asparagus OR the Crab Crusted Grouper with yukon potato mousseline, pan flashed spinach, forest mushrooms and blood orange buerre blanc…so we split one of each! We couldn't resist the Grouper knowing it was a fresh catch, but the tenderloin also came highly recommended by the servers.
Both were equally delicious. In fact, to explain just how much I enjoyed it, listen to this: I took half my fish back to our suite (to save room for dessert, of course) and I literally couldn't wait to eat it the next morning. I'm not even a huge seafood fan! Not only did I eat it as soon as I woke up, I didn't even heat it up…I simply couldn't wait. IT WAS THAT GOOD.
We split two desserts amongst the table, a bread pudding and a guava key lime tart. Come on, how could we eat at a Florida oceanfront restaurant without trying the key lime tart? I especially loved the toasted meringue and guava marmalade that complemented the creamy tart.
The Kitchen Table at 3800 Ocean
When we walked in, we noticed a raised table overlooking the kitchen that sat five guests. We later discovered this to be known as "The Kitchen Table". The Kitchen Table offers guests a unique Singer Island dining experience personally created by 3800 Ocean's chefs. The à la minute custom experience is $89 per person and is available from 5 to 7 p.m. every Thursday through Saturday.
We didn't personally experience The Kitchen Table during this trip, but look forward to trying it as a couple on our next trip to the Palm Beach Marriott Singer Island.
Lagoon Cantina
Our second day, we lunched at the Lagoon Cantina, situated next to the Lagoon Pool. The piles of fresh herbs at the bar immediately caught my eye, followed by the delicious aromas escaping the kitchen.
Expected offerings like quesadillas and burgers get an elevated lift from accompaniments like roasted vegetables and pineapple cilantro slaw. Half of us couldn't resist ordering the fresh catch of the day, Mahi-Mahi, blackened on a sandwich. My only regret was that we never sampled the strawberry basil margarita (virgin, or course).
And if your kids are enjoying the slide and waterfall of the Lagoon Pool, you don't even have to make them get out of the pool while you eat! You can either have one of the friendly waitstaff serve you lunch while you lounge, or you can watch the kids from the tables located just next to the pool.
Lunch at 3800 Ocean: Outside overlooking the Atlantic Ocean
For our final lunch, we returned to 3800 Ocean, but this time to sit outside on their expansive, covered patio overlooking the water. My mom and aunt asked if we wanted to have lunch that day, so we invited them over to the hotel. I had raved so much to my mom about their Tempura Rock Shrimp, we knew exactly where we were eating. Plus, visitors who spend $50 or more at the restaurant enjoy free valet parking. (You can also visit the SiSpa and get free valet parking as well).
Even though we were in our beach cover-ups, we could have eaten inside. But after one look at the outdoor seating with the ocean view, our guests insisted on dining outside. Luckily, we could enjoy the same menu in both places.
While having dinner at 3800 Ocean the first night, we sampled two of their salads, but there were three others I was left craving. I satisfied that urge by ordering the Cobb Salad and it did not disappoint. With mango, avocado, hard-boiled egg, house-cut bacon and more, the Cobb filled me up without weighing me down for our upcoming afternoon beach activities.
I also couldn't help but take a bite of my son's Marriott Burger with bacon (equally delicious) and appreciated the Beyond Burger for my vegetarian daughter (I also stole some of her roasted garlic hummus and roasted portobello mushrooms – so tasty).
In-Room Dining
If you prefer to dine from your balcony or just enjoy breakfast in bed, consider ordering in-room dining. While we didn't eat an entire meal in our room, we were greeted with a perfectly balanced fruit and cheese tray upon arriving. Not to be outdone, we also found two cupcakes filled with sprinkles and topped with whipped cream that I absolutely had to sample…and I can only say I wish I'd eaten one before my kids saw them! Something to look forward to on our next trip…
If you couldn't tell already, we ate as well as we slept and played while at the Palm Beach Marriott Singer Island. From fresh fish to creative cuisine, the Marriott Singer Island restaurants serve it all!
I invite you to research all the Palm Beach Marriott Singer Island dining options so you can start dreaming up your own perfect menu before your next trip.
Disclosure: The Palm Beach Marriott Singer Island & Spa hosted me and my family for our meal at 3800 Ocean, but because we enjoyed it so much, we were happy to pay for the rest of our dining.