This post may contain affiliate links, which means we may receive a small commission when you make a purchase at NO additional cost to you. Thank you for supporting our site in this way!
Vacationing in South Florida as a former resident poses a unique set of problems. But Palm Beach County locals and visitors alike agree that Singer Island is a little known gem. That's why our family chose to stay at the Marriott on Singer Island during our most recent Florida Trip. Keep reading to uncover my full Palm Beach Marriott Singer Island Resort and Spa review and decide if it's the right destination for your next family vacation.
Palm Beach Marriott Singer Island Resort and Spa Review
Let me be clear from the start: this is not a travel guide. This post is a review of the Palm Beach Marriott Singer Island Resort and Spa.
Why do I make the distinction?
Because it only took us about an hour after arriving at the resort to realize we never wanted to leave.
Don't get me wrong: the resort is not huge. But the exquisite location paired with its amenities and staff made us want to spend every possible minute on property.
Palm Beach Marriott Getaway with Teenagers
As I mentioned above, we used to live in Palm Beach County, Florida. My husband was born in South Florida. We met and married in Palm Beach Gardens. Our children were born in Jupiter. You could say we know our way around US1 and A1A.
All that to say a trip back to South Florida doesn't always mean a vacation for us. Between visiting family, friends and favorite places, it's easy to categorize our trips as "rushing" more than "relaxation". We knew this summer had to be different.
The other big difference this year is that we're now parents to two teenagers. Long gone are the days of kids sleeping on the floor at grandma's house and thinking it's an adventure. Heck, they don't even want to sleep on a pull-out couch in a hotel room anymore (and can you blame them?). They want their own bed, their own space and their own freedom.
In fact, our 14-year old's only wish was that we stay in a hotel on the beach and spend some time together as just our family of four. How could I deny that request?
With that, I started my quest to discover the perfect Singer Island beach hotel.
Why Singer Island?
Singer Island is a barrier island on Florida's famed Gold Coast. This gem is situated just north of historic Palm Beach, with the Atlantic Ocean on one side and the Intracoastal Waterway on the other. It's also so appealing because it's just over the bridge from Palm Beach Gardens. Not only is this where both my mom and MIL live, but it also boasts just about every shop, restaurant and amenity you could ask for, including the upscale shops and entertainment of The Gardens Mall.
You'll never lack for adventure on Singer Island either. Besides the beaches and trails, you're also just minutes away from the protected natural beauty of John D. MacArthur State Park. I could go on and on about the cultural and recreational appeals of nearby West Palm Beach or the charm of the Jupiter Lighthouse just to its north, but remember, I told you this wasn't going to be a travel guide 🙂 We simply wanted a classically modern hotel with a private beach on Singer Island to complete our South Florida summer trip, and that's what we found in the Palm Beach Marriott.
One final note before I move on: I say what I did in that last sentence above because it's important to know what you're getting yourself into when looking into Singer Island properties. Many of the buildings have been around for decades without being updated and even fewer have a private beach. The Marriott service standards we've come to know and love at Gaylord Opryland in Nashville are echoed in this property and we couldn't have been happier.
Palm Beach Marriott Singer Island: Resort Facts
Did you know the AAA Four Diamond-rated Palm Beach Marriott Singer Island Beach Resort & Spa is the only all-suite beachfront property in Palm Beach County? Rising 21 stories above a beautiful stretch of palm-fringed sand, each of its 193 one and two-bedroom guest suites offer spacious and stylish condo-style living especially perfect for family vacations with teenagers, but also ideal for romantic getaways and business travel.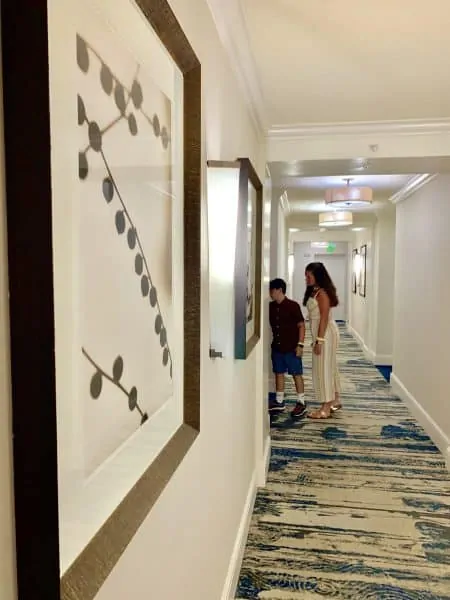 Suites range in size from 730 to 1,200 square feet with either one or two bathrooms. Each suite boasts generously-sized windows for breathtaking views and sliding glass doors that lead to private balconies overlooking the ocean or resort.
Just look at what each suite includes:
Fully equipped kitchens with stainless steel appliances, granite countertops and European cabinetry
Spacious, well-furnished living room
Private balconies
Beds with luxurious down comforters and duvets and cotton-rich linens
Marble bathrooms with a deep soaking tub and separate shower
In-suite washer and dryer
High-speed wired and wireless internet access
Flat-screen television with DVD player and premium movie channels
Bose stereo and CD player, iPod dock
Coffee/tea service
In addition to its sleek, contemporary decor, the resort features two restaurants and the award-winning SiSpa. Comfortably furnished outdoor spaces make the most of the Florida sun and sea breezes, inviting guests to relax poolside or gather for an evening of drinks and conversation by a fire pit. Our teens also appreciated the outdoor "game nook" featuring ping pong and foosball tables, along with larger than life Jenga and Connect Four.
But these are just words. Take a look at the video room tour of our two-bedroom suite at the Palm Beach Marriott Singer Island to see why we were blown away when we first stepped inside.
Honestly, there was only one thing that disappointed me about our room: there weren't enough outlets and we couldn't find any USB outlets. Traveling with teens means there are a lot of devices to charge each night. The nightstands didn't have places to plug into, nor were there any under the kitchen bar (where I like to work). I know we were there to unplug, but I still like to have my command center set up wherever I go!
Breaking Down Guest Services
The resort offers the expected, yet thoughtful, array of guest services to ensure a convenient and comfortable stay, including: complimentary high-speed wireless Internet access in all public spaces, concierge service, room service, car rental desk, laundry and valet dry cleaning.
If you're driving to the Marriott on Singer Island like we did, you should know there is only valet parking available. As of the writing of this review, the daily rate is $17 and overnight guests pay $27 per day.
Keep in mind, if you visit the spa or spend $50 eating at one of the delicious restaurants on-site, your parking will be validated for the day. This was a great perk when we had relatives come visit us for an ocean-view lunch on our last day.
What's Included in the Resort Fee + Recreational Options
Each reservation is assessed a $35 resort fee each day. Please hear me out on this because I didn't realize all that was included in the resort fee until the second day of our stay and I don't want you to miss out on even one of these amenities.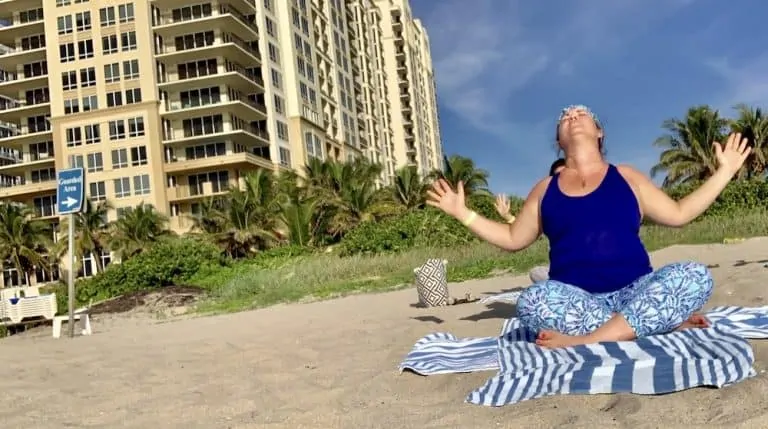 I first learned about the resort fee when I saw signs for yoga on the beach. That's when my eyes were opened to all the other perks. These four things alone made it worthwhile for my family:
1. Two free drinks per day (wine, beer, or well drinks. You can also get non-alcoholic beverages or bottles of water, but not frozen drinks).
2. An umbrella, two chairs & table set up for us by the staff on their private beach daily.
3. 2 hours of water sports daily (see the full list of what's offered below – this alone brought huge value to our family!).
4. The aforementioned daily yoga class on the beach (that's also when we saw volunteers helping baby sea turtle hatchlings!).
As if that weren't enough, here are all the recreational options included in your stay at the Palm Beach Marriott Singer Island:
–Lagoon Pool: This was the pool our suite overlooked, along with the intercostal waterway. This grotto-style, heated outdoor pool is ideal for families and features a two-story waterfall and water slide. You'll also find live entertainment on Saturday afternoons, as well as big-screen Dive-In Movies every Friday and Saturday night. Even though this might be considered the 'kids pool', it never felt over-crowded and all the nooks and seating areas made it still feel like our family could have our own space.
–Water sports: The resort provides surfing lessons as well as rentals of surf, paddle, reef, skim and body boards and snorkeling gear. This offering was what made the trip for our kids! Guests can also rent pedal boats and kayaks for their own use or for personal kayak and pedal boat tours of nearby Burnt Bridge. (Motorized water sports can also be arranged through the resort.)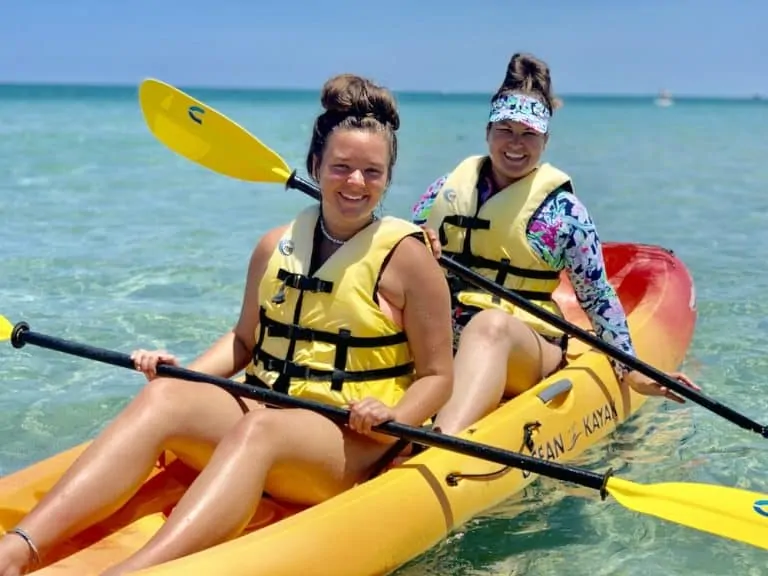 – Infinity Pool: Overlooking the ocean, the heated Infinity Pool offers a more tranquil environment. My son loved finishing his day with a quick swim here after long day on the beach. The pool area includes a whirlpool and chaise lounges.
– Cabanas stocked with a lounge bed, two lounge chairs, television, towels, fruit plate, sodas and water are also available for rental at an extra cost.
– Morning yoga and meditation classes
– Bicycle rentals
– Beach volleyball
Be advised that there is no tennis or golf on-site, but can be arranged at nearby properties with the help of the concierge. My son and I were really looking forward to playing tennis on the trip, but with the heat being what it was, we preferred the ocean activities.
Kids vs. Teens
I was surprised to see how many families – and especially teenagers – were vacationing at the Palm Beach Marriott Singer Island. We were drawn to how much our teens could do to stay active (with or without us). But if your kids are still little, you'll want to take advantage of all the Kids' Club offerings.
Located by the beach, the Kids Club caters to youngsters ages 4-12 with daily activities customized to each kid's age and interests. On the "menu" are crafts, sports, and seasonal adventures, from sand art and hair braiding to water balloon games, treasure digs and sea shell expeditions. Some events are provided at no charge while others have a fee associated with them.
Sessions are 9 a.m. to 4 p.m. daily, with Parent's Night Out on Fridays and Saturdays, 6 to 10 p.m., including dinner. It's a great option for family's who want to vacation together, while still providing parents with some much-needed alone time.
Let's Talk About the Food
I don't know about you, but I'm always a little bit wary of resort food. I often worry I'll be on the receiving end of over-priced yet average meals simply because I don't want to leave the hotel.
This was far from true for the Marriott Singer Island…(Read my in-depth review of all the Marriott Singer Island restaurants we ate at during our stay, including the two meals we experienced at the incredible 3800 Ocean).
Don't Skip the SiSpa
If I'm going to continue to be totally candid, I have the same reservations about resort spas as I do about resort restaurants. Guests wanting a manicure or massage on vacation often opt for the closest option, which means the service doesn't always need to be the best. Just like the restaurants at the Palm Beach Marriott Singer Island, the SiSpa exceeded my expectations and now ranks among my top spas of all-time.
The signature services paired with the included spa amenities transported me and enhanced my vacation. You can read about my full experience, including the technician I recommend, in my SiSpa Singer Island review.
What You Need to Know About Seasonal Savings
If you know anything about Florida, you likely know about the "Snowbirds". Many (older) residents of South Florida only live there for the winter months and head back north where it's cooler for the summer. As such, you can often score better rates on summer travel to Singer Island.
Case in point, rates for a 1 bedroom suite are lowest in the summer months. May-September starting rates range from $216 to $274 per night. On the other hand, prices peak January through April with starting rates ranging from $324 to $607 per night.
Before this trip, I would never suggest anyone travel to Florida during the summer. But after staying right on the beach and being just steps from the ocean, I can now whole-heartedly recommend a summer stay at the Palm Beach Marriott.
Palm Beach Marriott Singer Island with Teens: A Summary of Thoughts
If you couldn't tell by this point, let me make it clear: we loved our stay at the Palm Beach Marriott Singer Island Resort and Spa and really can't think of anything we'd change. While floating in the ocean on our first full day at the resort, our teenagers already proclaimed this was their favorite Florida trip ever.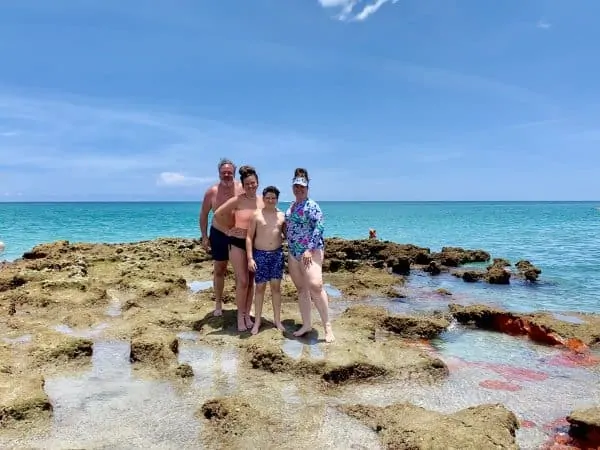 What truly set this stay apart for us were the spacious rooms where we got to be together as a family without feeling like we were living on top of each other. A close second would be the ease with which we could enjoy the beach and try new water sports. Finally, there are no words to fully communicate how much we appreciated the attentiveness of the staff who always seemed to be at the ready to help meet our needs without hovering or seeming disingenuous.
Not only did we feel safe, we also felt secure in allowing our teens the space to have time alone together. The resort does not sprawl as some do, which meant we pretty much knew every area our kids could potentially be in. If your family is looking for the perfect beach escape, you'll want to add the Palm Beach Marriott Singer Island to your shortlist!