This post may contain affiliate links, which means we may receive a small commission when you make a purchase at NO additional cost to you. Thank you for supporting our site in this way!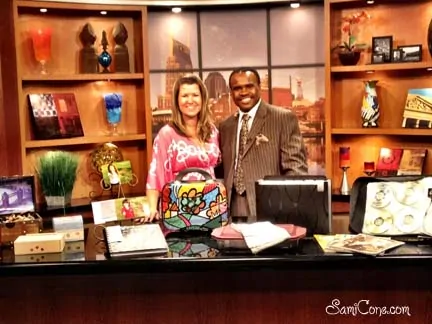 Watch the Talk of the Town video from today's show: White Chicken Chili Crock-Pot healthy recipe for busy moms on the go:

Today on Talk of the Town (March 20, 2012) I shared how busy moms can still cook healthy recipes even when they're on the go! Busy moms often find themselves in a conundrum: how to find the time to not only cook for your family, but how to make those meals healthy!
Well the answer may be older (& closer) than you think: your crock-pot!
For some reason I always used to associate crock-pots with casseroles (which I'm not a fan of)…but that couldn't be farther from the truth!
Here are just a few reasons why your crock pot should be your friend (whether you're a mom or not):
They use less energy than the oven, saving you money on electricity
The slow-cooking process adds more flavor without adding extra fat and calories that come with traditional cooking methods
You can plan (& start cooking) your meal WAY in advance of the dinner hour, when it's more convenient for you….even putting food in overnight after the kids are asleep!
You can cook enough to last beyond one meal and re-purpose the rest for a dinner later in the week (for example, cooking a whole chicken for dinner, but then using the rest to shred for salads, fajitas, etc)
My latest favorite recipe is one that you can literally toss all the elements into the night before and end up with a perfect & healthy meal for dinner the next day. It's  White Chicken Chili, and you just might be surprised at what's used to thicken it up…
[amd-recipeseo-recipe:4]
This is less than 300 calories and under $1 per serving. We make a big batch and usually have enough left over to freeze for an additional 2 dinners! Serve with cornbread or crackers to round out the meal.
If you don't yet own a crock-pot or slow cooker, check out some of my
favorite crock-pots
for every need!