This post may contain affiliate links, which means we may receive a small commission when you make a purchase at NO additional cost to you. Thank you for supporting our site in this way!
Today is February 18, 2015, AKA the first day of Lent, and I'm unboxing the Messiah Mystery, a FamilyLife Lent resource, for the first time and sharing it with you on video.
Not growing up in the church, I've never intentionally celebrated Lent (the 40 days leading up to Easter).
In fact, it would be safe to say I knew more about Mardi Gras in my youth than I did about Lent.
So that's why I was thrilled to discover The Messiah Mystery, a part of the Ever Thine Home collection created by Barbara Rainey.
During the Love Like You Mean It Cruise this month, I got to talk with Barbara a little bit about her heart behind creating not only The Messiah Mystery, but the entire Ever Thine Home collection.
As a young mom, she longed for beautiful AND practical products to assist her in pointing her family towards Christ and reinforce the principles she was already introducing into her home…yet she couldn't find any.
So now, thanks in part to The Messiah Mystery, I now have a way to encourage and educate my children on this season and why Easter deserves just as much time and attention (if not more!) than Christmas.
Here's everything you need to know about The Messiah Mystery:
The Messiah Mystery Description
Grab your magnifying glass and put on your sleuth jacket. A 2,000 year old mystery awaits. One of the most theological resource Ever Thine Home has created, it takes your family through devotions during Lent that show Christ as He is revealed through Scripture.
The Messiah Mystery Kit Includes:
* Six-session read-aloud journal
* Two clue notebooks
* A magnifying glass
* A 40-day paper chain and poster to count down the days of Lent.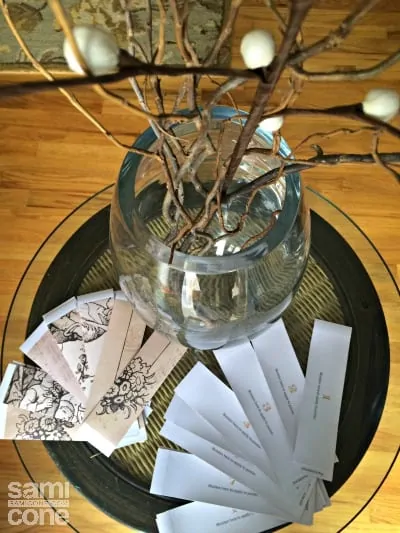 We've hung the poster by our front door so the kids can countdown every morning before they leave for school. We plan to read the devotions at night after dinner since those can take a bit longer and I don't want to feel like we're rushed in the morning.
You might also notice the "He Is Risen" Easter banner hanging on our front door, yet another beautiful part of the Ever Thine Home Easter collection.
The Messiah Mystery Discount Details
For a limited time, you can receive 50% off when you purchase The Messiah Mystery through this link and use Promo Code CONE.
I'll be posting videos throughout Lent as we go through The Messiah Mystery as a family.
You can also visit the Ever Thine Home website to discover ALL the beautiful resources they offer.
Other FamilyLife products we love:
* FamilyLife Adorenaments
* FamilyLife Resurrection Eggs
Ever Thine Home purchases benefit orphans around the world. Be advised that the links above are also affiliate links.